Quick and easy treat with warm buttery oats, sweetened with brown sugar.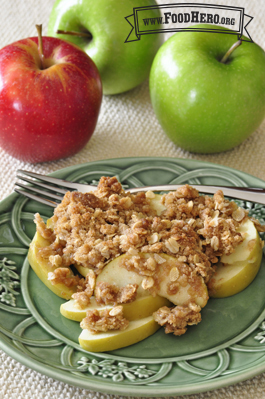 Prep time:
5 minutes
Cook time:
30 minutes
Makes:
8 Bars (4 inches x 2 inches)
Nutrition Facts:
View label
Ingredients
4 cups
diced apples or pears
½ cup
old fashioned
rolled oats
⅓
 cup
margarine or butter, softened or melted
Directions
Wash hands with soap and water.
Preheat oven to 375 degrees F. Lightly grease an 8x8-inch baking dish.
Arrange fruit in the dish. Mix remaining ingredients and sprinkle over fruit.
Bake until topping is golden brown and fruit is tender, about 30 minutes.
Refrigerate leftovers within 2 hours.
Notes
Use any fresh, frozen or drained canned fruit that you have on hand.
Add 1/2 cup dried fruit (raisins, cranberries, cut apricots).
Try plain or vanilla yogurt as a topping and sprinkle with cinnamon.