A warm and tasty sweet treat that's packed with veggies, warm cinnamon, and crunchy nuts.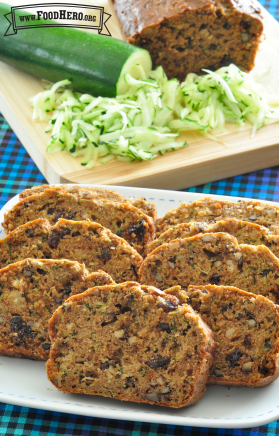 Prep time:
15 to 20 minutes
Cook time:
45 to 60 minutes
Makes:
16 slices
Nutrition Facts:
View label
Ingredients
1 1/2 cups whole-wheat flour or all-purpose flour (try a combination)
1/2 teaspoon baking powder
1/2 teaspoon baking soda
1/2 teaspoon salt
1 1/2 teaspoon cinnamon
1/2 teaspoon nutmeg
1/2 cup vegetable oil
1/2 cup brown sugar or honey (see Notes)
2 eggs
1 teaspoon vanilla
1 1/2 cups grated zucchini (squeeze out some moisture after measuring)
1/2 cup chopped nuts or seeds, any type (optional)
1/2 cup raisins or dried cranberries (optional)
Directions
Wash hands with soap and water.
Preheat oven to 350 degrees F. Lightly greast a 9x5-inch bread pan and set aside.
In a medium bowl, combine flour, baking powder, baking soda, salt, cinnamon and nutmeg.
In a separate bowl, combine oil, brown sugar, eggs, vanilla and zucchini. Mix until well combined.
Add the wet ingredients to the dry ingredients. Stir until the dry ingredients are moistened, without overmixing. Gently add nuts and raisins, if desired.
Pour batter into pan and spread into the corners. 
Bake 45 to 60 minutes or until a wooden pick inserted into the center of the loaf comes out clean.
Remove pan from oven and let cool for 10 minutes.
Remove bread from pan and let cool completely on a rack. Slice to serve.
Wrap to store for several days or freeze for up to 1 month.
Notes
You can substitute 1/4 cup oil with 1/4 to 1/2 cup mashed banana or unsweetened applesauce.
You can use grated carrot or mashed banana with grated zucchini for a total of 1 1/2 cups.
Try other spices such as cloves, allspice or ginger. If you like spices, use more than the recipe suggests.
Honey is not recommended for children under 1 year old.