Simple 4-ingredient meal topped with warm marinara and melted cheese!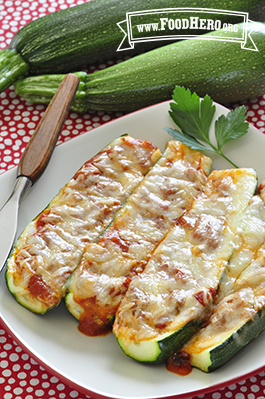 Prep time:
10 minutes
Cook time:
30 minutes
Makes:
6 small zucchini halves
Nutrition Facts:
View label
Ingredients
2
medium or 3 small zucchini
½ cup
tomato based pasta sauce
½ cup
shredded mozzarella cheese
2 Tablespoons
parmesan cheese
Directions
Wash hands with soap and water.
Heat oven to 350 degrees F.
Cut each zucchini in half lengthwise. Use a spoon to gently scrape out soft, seedy center of zucchini.
Place zucchini halves in a small baking dish. Spoon pasta sauce into zucchini halves. Top with mozzarella and parmesan cheeses.
Bake for 25 to 30 minutes or until zucchini can be pierced with a fork and cheese is bubbly and brown. Serve warm.
Refrigerate leftovers within 2 hours.
Comments
Submitted by
russeste
on Thu, 09/07/2023 - 17:36
Submitted by
ckbrown
on Wed, 04/01/2020 - 12:03
You might also like...