A colorful and earthy side dish that only uses 4 ingredients.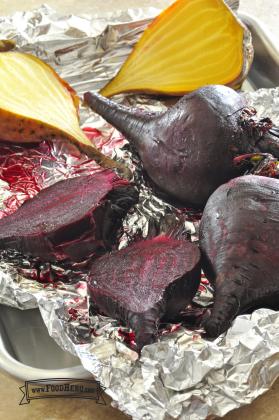 Prep time:
5 to 10 minutes
Cook time:
45 to 60 minutes
Makes:
4 Servings
Nutrition Facts:
View label
Ingredients
1 pound (3 to 4 medium) beets
2 teaspoons vegetable oil
1⁄4 teaspoon salt
1⁄4 teaspoon pepper
Directions
1. Wash hands with soap and water.
2. Preheat oven to 400 degrees F.
3. Scrub beets under running water using a clean vegetable brush.
4. Trim the stem and root ends of each beet to about one inch. Place the beets on a piece of foil, drizzle with oil and seal edges closed. Foil keeps the beets moist and makes clean-up easy.
4. Place the beets on a baking sheet. Roast for 45 to 60 minutes until they can be pierced to the center with a dull knife. Open foil carefully when testing for doneness.
5. When beets are cool enough to handle, slice off ends and remove skin, if desired.
6. Season with salt and pepper. Serve now or use in another recipe.
7. Refrigerate leftovers within 2 hours.
Notes
Try adding other seasonings such as thyme or cumin.