Creamy and slightly nutty. Add fruit, honey and your favorite spices for a delicious breakfast.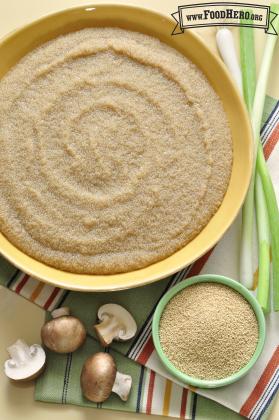 Prep time:
5 minutes
Cook time:
30 to 35 minutes
Makes:
about 2 1/2 cups
Nutrition Facts:
View label
Ingredients
1 cup amaranth
2 to 3 cups water (see Notes)
Directions
Wash hands with soap and water.
In a saucepan, bring water to a boil. Add amaranth.
Reduce heat to low, cover pan and simmer for 25 to 30 minutes or until it reaches the texture you like when fluffed with a fork or stirred with a spoon.
Refrigerate leftovers within 2 hours.
Notes
Use less water and cooking time for grains that will be more separate. Use more water and cooking time for a creamy cereal.
For a hearty breakfast cereal, top with any type of milk, fruit, nuts or seeds.
For savory amaranth, add herbs such as rosemary or thyme, nuts or seeds and serve with sautéed vegetables.
Try adding to other grains: cook 1/4 cup amaranth with 3/4 cup whole grain such as oats or rice. Follow cooking directions for other grain.
You can pop amaranth! Heat a dry skillet or saucepan over medium high until it is hot. Add 1 or 2 Tablespoons of amaranth seeds and shake or stir until the seeds pop but do not burn. Sprinkle on any dish for an added crunch and whole-grain goodness.
You might also like...