Thanks to the OSU Extension Latin Heritage workgroup for this recipe. Using lower fat meats reduces saturated fat for heart health.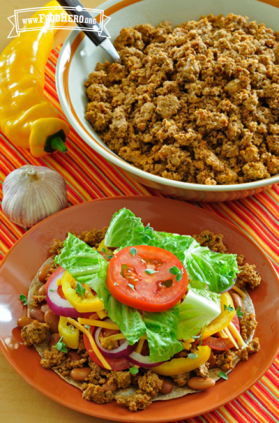 Prep time:
10 minutes
Cook time:
10 minutes
Chill time:
8 hours
Makes:
12 servings
Nutrition Facts:
View label
Ingredients
¼ teaspoon thyme
4 cloves garlic, minced or 1 teaspoon garlic powder
¼ to 1 ½ teaspoons cumin
½ teaspoon to 1 Tablespoon oregano
1 ½ teaspoons salt
½ teaspoon pepper
¼ cup vinegar (try white)
¼ cup mild to medium heat ground chile (try California, poblano or guajillo)
2 Tablespoons paprika (optional)
1 pound lean ground beef (10% fat)
1 pound ground turkey or chicken (7% fat)
Directions
Wash hands with soap and water.
In a small bowl, mix together all ingredients except the ground beef and turkey.
In a large bowl, put the ground beef and turkey.
Add spice mixture to ground meats and mix well with a spoon or your hands. Wash hands after handling raw meat.
For best flavor, cover the bowl and allow the mixture to sit for about 6 hours, or overnight, in the refrigerator.
Cook in a large skillet over medium-high heat (350 degrees F in an electric skillet) until the meat is browned. Use a spoon or spatula to break up the meat into smaller pieces as it browns.
Refrigerate leftovers within 2 hours.
Notes
For a spicy chorizo, add ground hot pepper such as cayenne.
Cook only the amount you need. Freeze the rest in labeled freezer containers to use within 3 to 4 months. Press into thin pieces to thaw faster.