Jack-O-Lanterns (Pumpkin Pancakes)
Brown sugar, pumpkin, and warming spices make this a fun and delicious recipe that the whole family will enjoy.
Video: Pancakes with Kids
Kids Can!
Depending on their skills, show kids how to: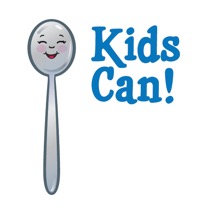 Measure flours and other dry ingredients
Arrange raisins
Crack and beat eggs
Use a ¼ cup measuring cup to dip and pour batter
Ingredients
1 egg
1 ¾ cups
1% or nonfat milk
2 Tablespoons
vegetable oil
2 Tablespoons
brown sugar
1 Tablespoon
baking powder
1 teaspoon
pumpkin pie spice
5 Tablespoons
raisins (optional, to make faces)
Directions
Wash hands with soap and water.
In a large mixing bowl, combine eggs, pumpkin, milk and oil.
Add flour, brown sugar, baking powder, pumpkin pie spice and salt to egg mixture. Stir gently.
Lightly grease a large skillet or griddle. Heat skillet or griddle over medium-high heat (300 degrees F in an electric skillet). Using a 1/4 cup measure, pour batter on hot griddle.
Put a face on the jack-o-lantern, using raisins for eyes and teeth. Drop raisins in batter while it cooks.
Pancakes are ready to turn when tops are bubbly all over, and the edges begin to appear dry. Use a quick flip with a broad spatula to turn pancakes. Turn only once. Continue to bake until bottoms are brown and dry.
Refrigerate leftovers within 2 hours.
Notes
No pumpkin pie spice? Use 1/2 teaspoon cinnamon, 1/2 teaspoon dry ginger, and 1/8 teaspoon cloves or nutmeg.
Try using 1 cup whole-wheat flour and 1 cup all-purpose flour for more whole grains!
To see if skillet is hot enough, sprinkle with a few drops of water. If drops skitter around, heat is just right.
Top with applesauce, fresh fruit or yogurt.
Comments
Submitted by
ndsullivan
on Mon, 10/31/2022 - 07:11
Submitted by
AngMath
on Sat, 10/17/2015 - 06:02
Submitted by
MommySutter
on Tue, 07/10/2012 - 15:19
Submitted by
Fruit Fanatic
on Tue, 05/01/2012 - 14:04
Submitted by
veggielover75
on Tue, 12/13/2011 - 12:20
You might also like...