Creamy, smoky and garlicky, with a pop of tangy lemon. A great way to enjoy eggplant!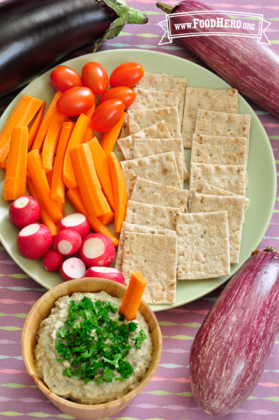 Prep time:
10 minutes
Cook time:
45 minutes
Chill time:
15 minutes
Makes:
1 1/2 Cups
Nutrition Facts:
View label
Ingredients
1 globe eggplant or 2 to 3 smaller eggplants
¼ cup tahini
3 to 4 Tablespoons lemon juice
2 to 3 cloves garlic, minced or ½ to ¾ teaspoon garlic powder
¼ teaspoon salt
2 Tablespoons chopped parsley or cilantro (optional)
Directions
Wash hands with soap and water.
Preheat oven to 400 degrees F. Lightly grease a baking sheet or line sheet with aluminum foil.
Poke whole eggplant with a knife or fork in 8 to 10 places. Place on baking sheet and roast until the eggplant collapses and softens, about 45 minutes. Turn over after about 20 minutes. Smaller eggplants will take less time.
Cool eggplant for 10 to 15 minutes. Remove the stem and skin to throw away or compost. Place cooked eggplant in a medium bowl or blender. Add the rest of the ingredients and stir or blend until smooth.
Scoop mixture into a serving bowl and sprinkle with parsley, if desired.
Refrigerate leftovers within 2 hours.
Notes
Serve with raw vegetables, whole-grain pita, or crackers.
Try adding 1 to 2 Tablespoons olive oil or plain yogurt for a smoother dip with even more flavor.
No tahini? Try using 2 Tablespoons smooth peanut butter and 2 Tablespoons vegetable oil.