Rich and flavorful roasted tomatoes with garlic and your favorite fresh or dried herbs.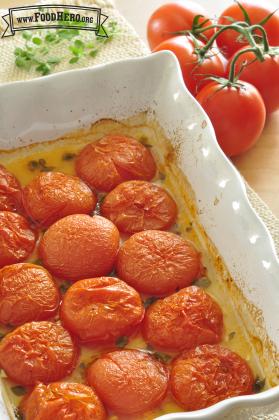 Prep time:
10 minutes
Cook time:
30 to 45 minutes
Makes:
2 1/2 to 3 cups
Nutrition Facts:
View label
Ingredients
1 Tablespoon vegetable oil
1/2 teaspoon salt
1/4 teaspoon pepper
2 cloves garlic, whole or chopped (optional)
2 Tablespoons fresh herbs or 2 teaspoons dried herbs (optional)
2 pounds tomatoes, stems removed
Directions
Wash hands with soap and water.
Preheat oven to 350 to 400 degrees F.
Drizzle oil on the bottom of a 9x13-inch baking dish. Sprinkle salt and pepper into the dish along with garlic and herbs if desired.
Cut tomatoes in half and put in baking dish with cut side down.
Bake tomatoes until soft and the peels start to brown, about 30 to 45 minutes. Cook longer if you want to remove more liquid.
Add to recipes in place of canned tomatoes, or chop and serve as a chunky sauce or blend to a smooth sauce.
Refrigerate leftovers within 2 hours or freeze for 8 to 12 months.
Comments
Submitted by
walscaro
on Thu, 10/14/2021 - 11:16
You might also like...