Sweet and buttery treat with crunchy walnuts and a dash or citrus. For breakfast, snack, or on the go!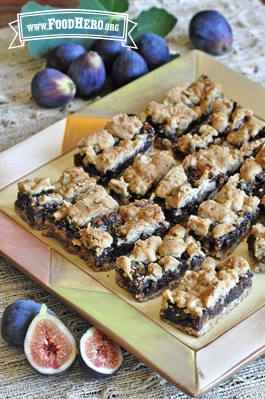 Prep time:
45 minutes
Cook time:
30 minutes
Makes:
24 bars (about 2.5 x 2 inches)
Nutrition Facts:
View label
Ingredients
16 ounces
 dried figs, chopped
¼ cup
orange juice (juice from 1/2 orange)
½ cup
margarine or butter, softened
1 ½ cups
all-purpose flour (try whole-wheat flour or a mix)
1 ¼ cups
old fashioned rolled oats
Directions
Wash hands with soap and water.
Preheat oven to 350 degrees F. Lightly grease a 9x13-inch baking pan.
Combine figs, walnuts, sugar, orange juice and hot water in a mixing bowl and set aside.
Mix together margarine or butter and brown sugar until creamy. Add egg and mix until smooth.
Mix flour and baking soda. Stir into egg mixture. Blend in oats to make soft dough.
Reserve 1 cup of dough for topping. With floured fingertips, press the remaining dough into a thin layer on the bottom of the baking pan.
Spread fig mixture evenly over the dough. Crumble reserved dough over top, allowing fig mixture to show.
Bake 30 minutes or until golden brown. Cool completely in baking pan. Cut into 24 bars (about 2

½

x 2 inches).
Refrigerate leftovers within 2 hours.
Notes
No dried figs? Use 3 cups chopped fresh figs. Omit the hot water and orange juice, but add 1 teaspoon lemon or orange zest (grate the outer colored part of the peel).
Comments
Submitted by
SoCal red
on Tue, 08/11/2020 - 12:52
Submitted by
FHteam
on Tue, 08/11/2020 - 14:56
Submitted by
SoCal red
on Tue, 08/11/2020 - 16:31
Submitted by
walscaro
on Sat, 04/18/2020 - 13:44
You might also like...