With another scorching summer month on the horizon, you might be wondering what's still possible to do in the garden in August. Despite the heat, there's plenty to do this month to keep your plants thriving and to prepare for a fall harvest of delicious vegetables and fruits. And did you know that one of the areas you can focus on is herbs that will add a boost of flavor to your meals and snacks?
Herbs Basics
Let's start with the basics. Herbs come in different categories, one of which is perennial herbs. These hardy plants can survive cool temperatures and live for at least two years. In this category, you'll find woody types like lavender, rosemary, sage, and thyme, as well as herbaceous types such as chives, mints, oregano, parsley, and tarragon.  Herbs like these, are an easy way to add flavor, color, and aroma to your favorite recipes!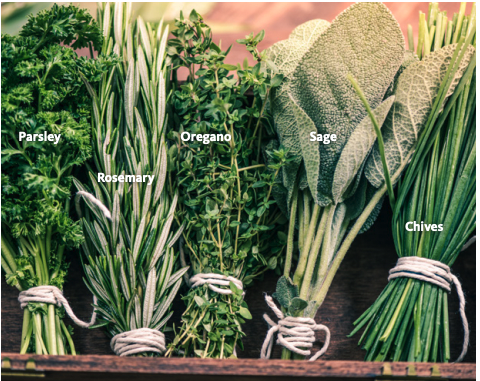 Most herbs can be grown from seed and will need at least 6 hours of full sunlight a day.  You can plant them directly in the ground, and they'll require little to no fertilizer. Alternatively, you can grow them in containers, making them a great option if you have limited space or need to grow them indoors. Just remember to plant herbs in well-draining soil.
Insider Tip from an OSU Extension Master Gardener:
Let's get some inside knowledge from an experienced gardener participating in Food Hero's Grow This! Gardening challenge. Shirley, from the Master Gardener Demonstration Garden in Eugene*, shares a valuable tip: "It's herb harvest time! Herbs can be harvested anytime you need them for a tasty dish. For peak flavor (which is best if you're drying them) this is right before they flower…"
Now, you might be wondering what that means for you.  Let's get into it.
When and How to Harvest
Keep in mind that younger leaves tend to have the most flavor. As Shirley says, harvest your leaves before the plant flowers for the best flavor from both newer and older leaves.  For harvesting, choose a cool part of the day and use either scissors or clippers. Simply snip just below a pair of leaves, leaving about 4 to 6 inches of stem for new growth. But remember not to harvest more than one-third of the plant at one time so it will keep growing.
From the Garden to the Table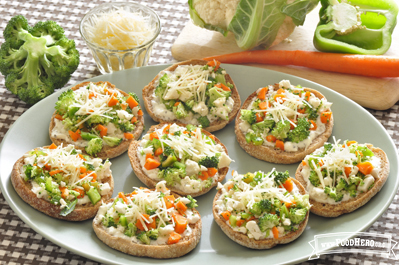 Herbs are a great addition to so many recipes. They enhance the flavor of soups and stews, salads, pastas, dips, sauces and pizzas. Here are some ways to use your homegrown herbs in the kitchen. Once you've snipped the herbs you want to use, give them a rinse, and try adding them to one of the recipes below. You can also use herbs from the store or the farmers market.
How to Store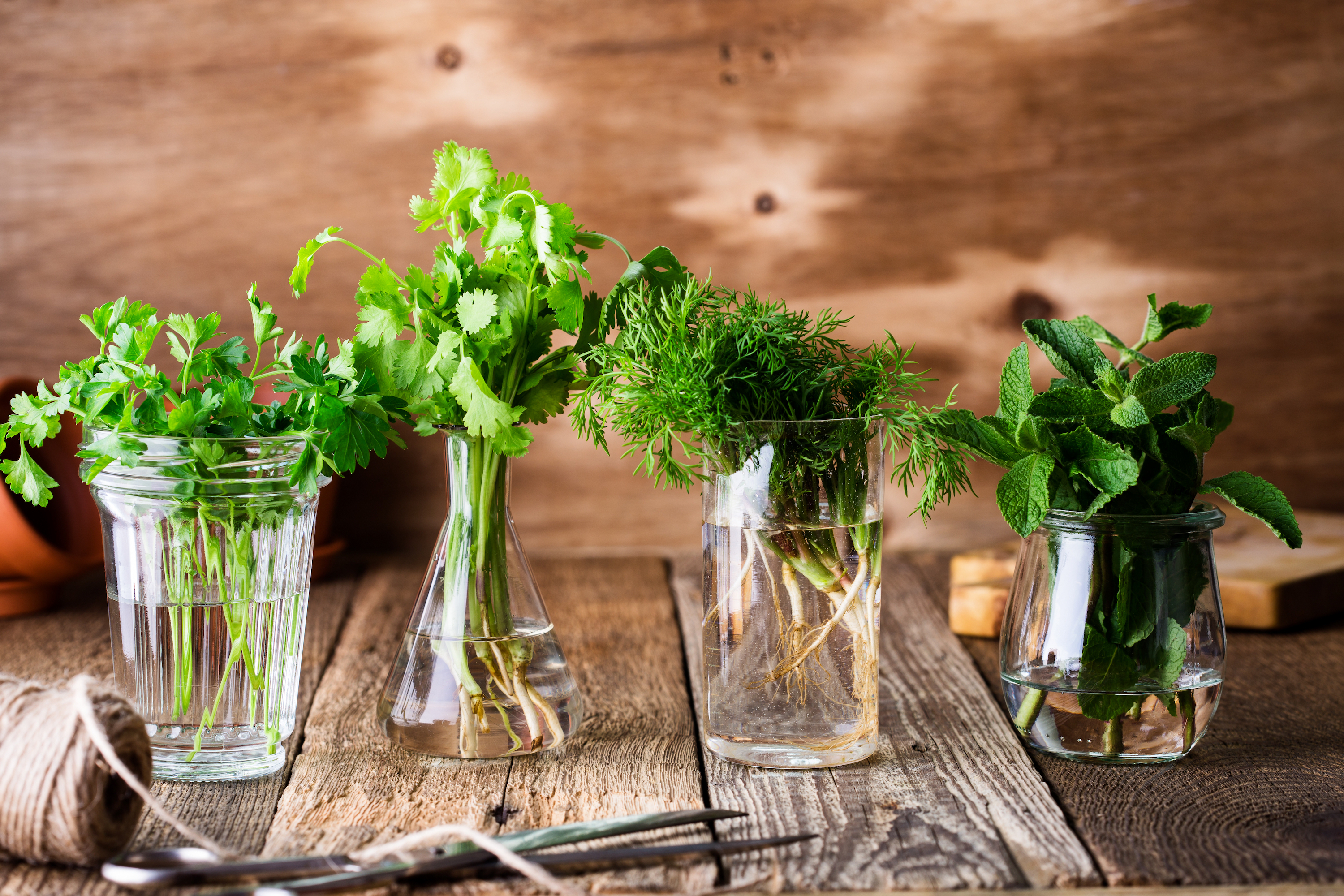 Wondering what to do with extra herbs after you've used what you needed? Proper storage is key. You can refrigerate fresh herbs in a glass of water, just like you would with flowers. Then cover them with a loose plastic bag for up to a week. Be sure to rinse the herbs before using. Additionally, you can get creative and freeze herbs in small amounts with water in ice cube trays for later use in recipes. When you need herbs, just defrost one or more of the ice cubes into your recipe and keep cooking!
How to Dry Herbs
Dried herbs have the advantage of packing a stronger taste than fresh ones, and they can be stored for a longer duration. This can make them a more convenient option. There are multiple ways to dry herbs:
Air dry – Place your herbs in a dry, warm, dark place for several weeks without a cover.

Microwave – Put your herbs in microwave on high for 1 to 3 minutes without a cover.

Oven – Arrange your herbs in the oven at 180 degrees F for 4 hours.
Once they're dry, store them in a sealed container for up to 2 to 3 years.
And there you have it, your own homegrown dried herbs!
We hope you're excited for another summer month of learning and experimenting in the garden and kitchen! Let us know if you try any of these recipes.
For more information about growing herbs in Oregon, check out the Food Hero Perennial Herbs Gardening Tip Sheet
*This is an update from Shirley at the Master Gardener Demonstration Garden in Eugene. Master Gardeners are growing-along for the 2023 Food Hero Grow This! Gardening challenge. Thousands of Oregonians have received their seeds from Food Hero, and OSU Master Gardener volunteers are growing along right beside you to share updates and growing tips.
You can visit the Master Gardener Adaptative Committee Specialists Garden and see all of this work live and in person. The garden is open to the public Monday thru Thursday, 10AM-4PM. 996 Jefferson St., Eugene, Oregon