Store Well Waste Less - Raspberries and Blackberries
■ Refrigerate berries in a covered shallow container. Use raspberries within 1 to 3 days; blackberries within 3 to 5 days.
■ Rinse berries under cool running water just before using. Moisture during storage speeds spoilage.
Savannah
Thu, 03/25/2021 - 12:48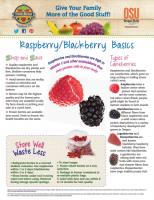 Kids Can! - Raspberries and Blackberries
When kids help make healthy food, they are more likely to try it. Show kids how to:
❁ rinse berries under cool running water.
❁ mash berries with a fork or potato masher.
❁ measure and mix ingredients.
Savannah
Wed, 03/24/2021 - 23:58
Quick Ways to Use Berries
■ Add berries to cold cereal or hot whole-grain cereal like oatmeal.
■ Fold berries into bread, muffin, or pancake batter.
■ Top green salads with berries.
■ Eat fresh or frozen berries as a snack.
Savannah
Tue, 03/23/2021 - 19:09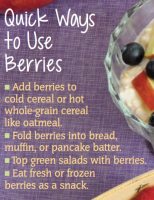 Overnight Oatmeal - Blueberries, Blackberries and Raspberries
Ingredients
1 cup old-fashioned rolled oats (raw)
1 cup low-fat yogurt
½ cup non-fat or 1% milk
½ cup berries, fresh or frozen
½ cup chopped apple
Directions
1. In a medium bowl, mix oats, yogurt, and milk.
Savannah
Tue, 03/23/2021 - 19:00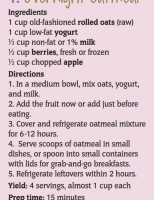 Subscribe to berries