Banana Pancakes
Panqueques de Plátano Rinde: 16 panqueques
Tiempo de preparación: 15 minutos
Tiempo para cocinar: 20 minutos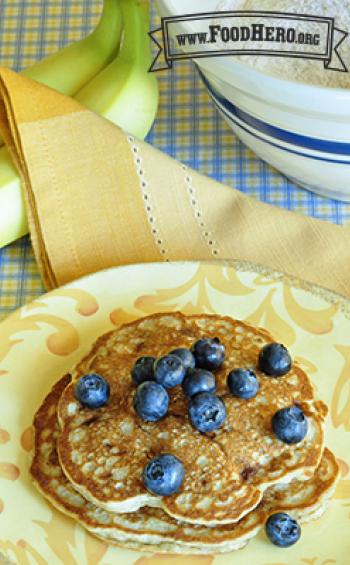 Ingredients
1 ½ cups
nonfat or 1% milk
3 Tablespoons
vegetable
oil
2 bananas, mashed
2 teaspoons
baking powder
Ingredientes
1 ½ tazas
de leche 1% o sin grasa
¾ de taza
de harina de trigo integral
¾ de taza
de harina blanca
2 cucharaditas
de polvo de hornear
Directions
Wash hands with soap and water.
In a medium bowl, mix together eggs, milk, sugar, oil and bananas. 
In a separate bowl, stir together flours and baking powder. Add to liquids and mix until blended.
Heat a lightly greased skillet or griddle over medium-high heat (350 degrees F in an electric skillet).
Pour 1/4 cup batter onto the griddle for each pancake. Cook until tops are bubbly and pancakes are dry around the edges. Turn pancakes over and cook until golden brown on the bottom.
Refrigerate or freeze leftovers within 2 hours.
Preparación
Lávese las manos con jabón y agua.
Bata los huevos en un tazón mediano. Añada la leche, el azúcar, el aceite y los plátanos y mezcle bien. Añada las harinas y el polvo de hornear. Mezcle ligeramente.
Unte la sartén ligeramente con aceite líquido o en espray. Caliente la sartén a fuego medio alto (350 grados en una sartén eléctrica).
Ponga 1/4 de taza de la mezcla en la plancha por cada panqueque que cocine. Cocine los panqueques hasta que aparezcan burbujas por encima y los bordes estén secos. Deles vuelta y cocine de 2 a 3 minutos más o hasta que estén dorados.
Refrigere lo que sobre dentro de las siguientes 2 horas.
Notes
To see if skillet is hot enough, sprinkle with a few drops of water. If drops skitter around, heat is just right.
Top with yogurt or any fruit or fruit sauce.
Notas
Para saber si la sartén está lo suficientemente caliente, rocíele unas gotas de agua. Si le salen burbujas que se mueven alrededor, está lista la temperatura.
Cubra con pure de manzana, fruta fresca o yogur.