Cucumber Basics
Cucumbers are full of water, for good hydration and digestion.
Shop and Save
The most common types of cucumbers can be found in grocery stores year round. 
Choose cucumbers that are firm and evenly colored. Avoid those with scars or soft spots. 
Cucumbers of different shapes, sizes and colors can be found in season at farmers' and specialty markets. In Oregon, this is usually July to October.
Cucumbers belong to the same plant family as squash and melons.
Store Well Waste Less
Cucumbers store best in a cool place (55 degrees F) in a bag with air flow. If refrigerating, keep up front to protect from over-chilling. Use within a week. 
Scrub well with a clean vegetable brush under running water just before using.
Remove the peel if it is thick or tastes bitter. 
Tightly wrap cut cucumbers or cover with water in a closed container and refrigerate. Use within a few days. 
Make refrigerator pickles from any type of cucumber. Use within 3 months.
Some Types of Cucumbers
Slicing – most common in grocery stores and good for eating fresh. Usually 6 to 9 inches long with thick skin.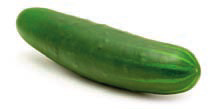 English – found in some grocery stores (wrapped in plastic) and good for eating fresh. Usually 1 to 2 feet long with thin skin.

Persian or Cocktail – found in some stores (often wrapped or bagged) and good for eating fresh. Usually 4 to 6 inches long with thin skin.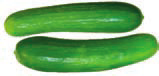 Pickling – common at farmers' markets and best for fermented or canned pickles but also good for eating fresh. Usually 4 inches long with thin and knobby skin.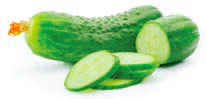 Enjoy Cucumbers
Recipes
Kids Can!
When kids help make healthy food, they are more likely to try it. Show kids how to:
scrub cucumbers under running water. 
safely peel cucumbers using a vegetable peeler.
measure and mix ingredients.
arrange a plate of colorful vegetables.