Cauliflower Basics
Cauliflower is high in vitamin C, which helps to heal wounds and fight infection.
Shop
and

Save
Choose a head of cauliflower with even color and tightly packed florets. 
Avoid heads with brown or wet spots and wilted or yellowing leaves. 
Fresh cauliflower is available year-round but may cost less when in season locally. In Oregon, this is usually May through December. 
Pre-cut fresh cauliflower can be found in the produce area of many grocery stores.  
Frozen cauliflower is a good buy and can be used in many recipes.
Three Ways to Cut Cauliflower
Begin with a flat edge: remove the leaves and slice across the core.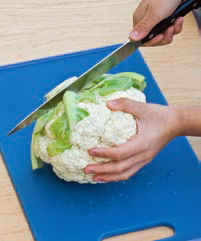 1. Steaks: slice through head from top to bottom every 1 to 1½ inches.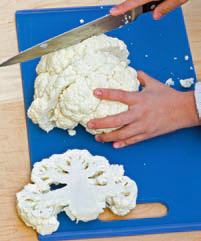 2. Florets: slice head into 4 sections, and then cut away core to release florets.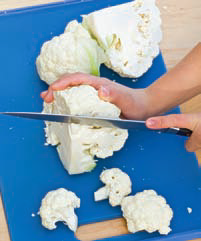 3. Rice: slice head into 4 sections, and then grate using the largest holes of a grater.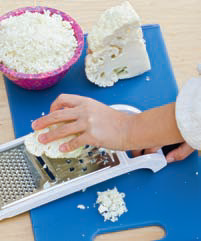 Store Well Waste Less
Refrigerate cauliflower stem side down in a loose bag or in the store wrapper for 1 to 2 weeks.   
Pre-cut cauliflower (from the store or cut at home) loses freshness faster; use in 2 to 3 days.   
Rinse cauliflower under running water just before using. Trim away brown spots.   The stem and leaves are good to eat raw or cooked.   
Freeze cauliflower for longer storage. For best color and flavor, blanch first and package in airtight containers to use within 8 to 12 months.
Enjoy Cauliflower
Recipes
Kids Can!
When kids help make healthy food, they are more likely to try it. Show kids how to:
measure and mix ingredients.   
press cauliflower mixture into balls or logs.   
wash hands after touching raw eggs (after cracking eggs and after pressing the balls or logs).
A medium-sized head of cauliflower is about 6 inches across, weighs about 2 pounds and makes 4 to 6 servings.