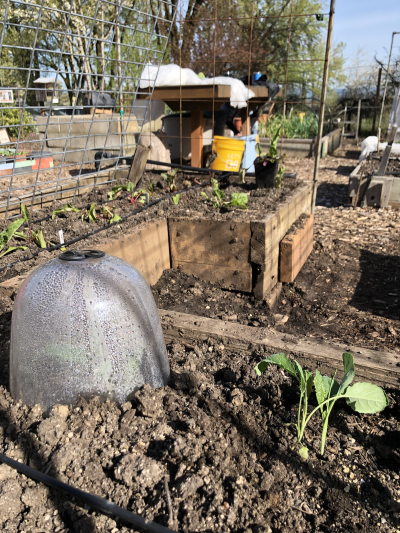 It's May and that means things are getting busy in the garden. Here's an update from Robin at the Washington County Master Gardener Association's Learning Garden at Jenkin's Estate.
Kale started from seed indoors and then transplanted to an outdoor raised bed is growing well. Covering transplants when it was cold with fabric row cover, or an individual cloche helped the plants survive through the frosty mornings. Purchased cloches often have a vent to release some of the warm air that builds up during the heat of the day. You can make cloches by cutting off the bottoms of plastic milk jugs. When the weather gets hot remove the cover to avoid overheating the plants.
A way to grow vegetables for a gardener who needs to sit is to plant in a trug. The bed is raised to a table height with room for knees. Adding a cover allows seedlings to flourish in cool weather and keeps out pests. This lettuce is flourishing.
You can visit the garden and see all of this work live! The Learning Garden is there to show different growing techniques, plants, and designs that work well in the local climate.
Washington County Master Gardener Association Learning Garden at Jenkins Estate
8005 SW Grabhorn Rd., Beaverton, Oregon 97007
Open seven days a week, dawn to dusk.
There is some parking available near the Learning Garden. Do not park on the Grass. The gate closes daily at 2 pm, so hike up from the main parking lot after that time.
Want to visit and ask questions? Master Gardeners work in the gardens on Thursdays, 9 am - 1 pm.