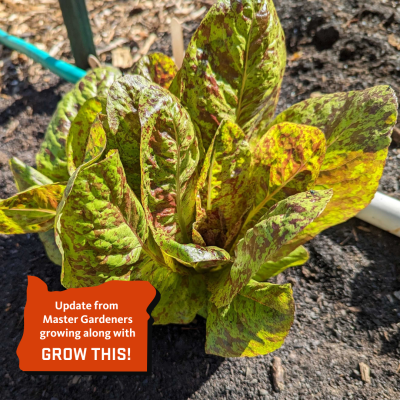 "Lettuce greens are a favorite in the Douglas County demonstration garden because they come in so many different colors, sizes, and flavors. Look at this beautiful one: Flashy Trout's Back. Isn't it gorgeous? It's a type of romaine lettuce that is pretty hardy, grows all summer long, and looks fabulous in your garden. It's ideal for picking the outer leaves as wanted instead of waiting until the head of lettuce forms as a ball. We also planted a green lettuce called Continuity that will form a head of lettuce later this summer. Of course, that doesn't have to stop us from picking a few leaves all summer long to add to our salads!"
This is an update from Cheryl at the Douglas County Master Gardener Discovery Garden in Roseburg. Master Gardeners are growing-along for the 2023 Food Hero Grow This! Gardening challenge. Thousands of Oregonians have received their seeds from Food Hero, and OSU Master Gardener volunteers are growing along right beside you to share updates and growing tips.
Come visit the garden at 101 River Forks Park Road, Roseburg, Oregon. Hours are from dawn to dusk. Also at this site is the amazing Discovery Garden where the master gardener association manages 20 different gardens ranging from rock garden to xeriscape to easy access to children's garden. Something is always in bloom in the Discovery Garden!