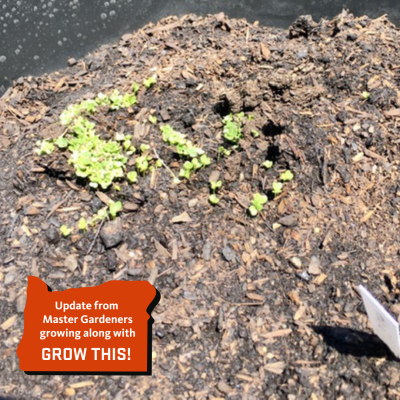 Garden update from Master Gardener Stormi in Lincoln County…
"Last year, I planted LATE (June 26, 2022!) due to ongoing freezes and then incredible soggy wetness. I planted nice, neat rows, on seed tape, in my beautiful raised beds that had been built to a higher depth and refilled with gorgeous and perfect soil. I did not get even one tiny sprout! Not for ANY of my greens. It's like they didn't exist. This was my first year trying kale AND my first year using seed tape. I don't know if I got a bad brand, if I didn't water enough or ????? Critters (voles/birds) bothered a lot of my veggies last year, but this didn't seem to be the culprit. I was very disappointed.
This year, weather conditions have been better so I could plant earlier (May 24, 2023 – a full month+ ahead of last year). I had seeds left over from last year and decided "What the heck? I'm gonna see if they are still viable." I planted them in a container on my deck, on a "trolly" so I can wheel it around for exposure. I used a pre-fertilized garden soil and I did not use seed tape. I scattered instead of rows (in other words, I disregarded the seed packet and everything else – not a smooth Master Gardener move for sure). My other greens are ALSO starting to sprout using this same method. I am optimistically hoping for a nice harvest."
…
Master Gardeners are growing along for the 2023 Food Hero Grow This! Gardening challenge. Thousands of Oregonians have received their seeds from Food Hero, and OSU Master Gardener volunteers are growing along right beside you to share updates and growing tips.