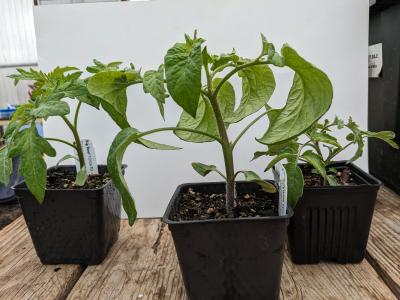 Three different tomatoes, planted at the same time. They're all indeterminate, which means they will be big plants that grow until the frost kills them. Big Beef, on the left, is a hybrid and very disease resistant. It produces nice round tomatoes (10-12 ounces) and ripens in about 70 days (from being planted in the garden).
Brandywine, in the middle, is an heirloom which many people think produces the best tomatoes. Unfortunately, it's difficult to grow west of the Cascades because it takes so long to get ripe tomatoes from the plant, about 80 days, sometimes more. Often it get too cold here before the tomatoes can ripen.
Sungold, on the right, is a favorite yellow cherry tomato. Sungold ripens earlier than many cherry tomatoes, about 60 days. 
The Benton County Master Gardeners grow about 1,300 vegetable starts for their plant sales. These are a few of the varieties.
—Rosalind, Benton County Master Gardener volunteer
…
You can visit the Benton County Fairgrounds Demonstration Garden. Master Gardener volunteers are there working on Wednesdays, 9-11am, but the garden is always open. 110 SW 53rd St. Corvallis, OR 97333. Enter from 53rd St. The garden is on the south side of the fairgrounds, by the chain link fence, on the south side of the Floral Courtyard.