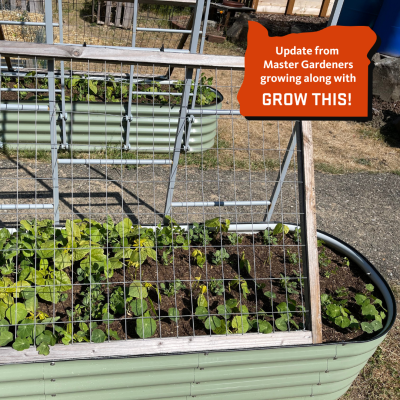 "Seeds were started in the trough by community members including beans, peas, nasturtiums. It didn't take long for the deer to find these tender plants and quickly eat them. We repurposed a trellis and used it as a lean to, in order to discourage the deer. It's been successful in areas that they cannot get to as shown in the picture. 
These were the only successful seed starts. To have veggies and flowers in the garden we ended up buying the plants and started them in the ground 5/23/23."
This is an update from Mary Jane at the Lincoln City Demonstration Garden. Master Gardeners are growing-along for the 2023 Food Hero Grow This! Gardening challenge. Thousands of Oregonians have received their seeds from Food Hero, and OSU Master Gardener volunteers are growing along right beside you to share updates and growing tips.
The Lincoln City Demonstration Garden is at 3788 SE High School Drive in Lincoln City. It's open every day, including holidays, from dawn to dusk. Garden is at the north end of the campus parking lot. Make sure to check out their keyhole garden with a central composter.