Celery Stir-Fry
Salteado de Apio Rinde: 4 tazas
Tiempo de preparación: 10 minutos
Tiempo para cocinar: 15 minutos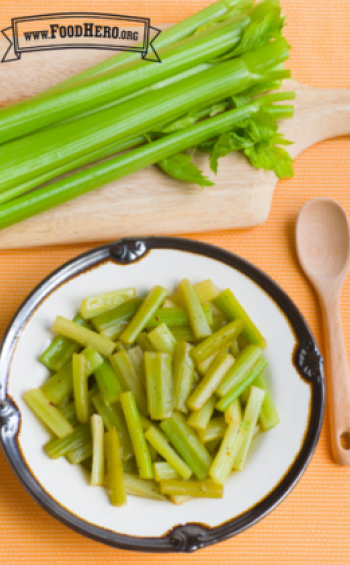 Ingredients
¼ cup water or low-sodium vegetable or chicken broth
1 Tablespoon low-sodium soy sauce
1 Tablespoon rice vinegar or apple cider vinegar
2 teaspoons corn starch
2 teaspoons vegetable oil
1 teaspoon sesame oil
4 cups sliced celery (about 8 large stalks; see Notes)
Dash of salt
¼ teaspoon pepper
¼ teaspoon red pepper flakes
Ingredientes
¼ de taza de agua o caldo vegetal o caldo de pollo bajo en sodio
1 cucharada de salsa de soya baja en sodio
1 cucharada de vinagre de arroz o vinagre de cidra de manzana
2 cucharaditas de maicena
2 cucharaditas de aceite vegetal
1 cucharadita de aceite de ajonjolí
4 tazas de apio en rodajas (vea Notas)
Pizca de sal
¼ de cucharadita de pimienta negra
¼ de cucharadita de hojuelas de chile rojo
Directions
Wash hands with soap and water.
Measure water into a 1-cup liquid measuring cup. Stir in soy sauce, vinegar and corn starch until combined. Set aside.
Heat oils in a large skillet over medium-high heat (350 degrees F in an electric skillet).
Add celery, salt, black pepper and red pepper flakes. Stir and cook until the celery softens, about 5 to 7 minutes.
Pour the sauce into the skillet. Stir until the sauce thickens and coats the celery.
Refrigerate leftovers within 2 hours.
Preparación
Lávese las manos con jabón y agua.
Mida 1 taza de agua con la taza medidora de ingredientes líquidos. Mezcle la salsa de soya, el vinagre y la maicena hasta que quede bien mezclado. Ponga a un lado.
Caliente los aceites en un sartén grande sobre fuego medio (350 grados F en un sartén eléctrico).
Agregue el apio, la sal, la pimienta negra y las hojuelas de chile rojo. Revuelva y cocine hasta que el apio se ablande, aproximadamente 5 a 7 minutos.
Vierta la salsa en el sartén. Revuelva hasta que se espese la salsa y cubra totalmente el apio.
Refrigere lo que sobre dentro de las siguientes 2 horas.
Notes
Cut each stalk of celery into 2-inch lengths. Cut each of those into 2 or 3 long pieces, depending on how wide the stalk is. Or try cutting each celery stalk into ½-inch slices.
Try adding other vegetables, such as onion, garlic and sliced carrots to cook with the celery.
Try adding sliced beef, chicken or pork to cook with the celery.
Try serving with Food Hero Baked Tofu and a whole grain, such as brown rice.
Notas
Corte cada tallo de apio en trozos de una longitud de 2 pulgadas. Corte cada uno de estos en 2 o 3 piezas largas, dependiendo de que tan ancho sea el tallo. O intente cortar cada tallo de apio en trozos de ½ pulgada.
Intente agregar otras verduras, como cebolla, ajo y zanahorias en rodajas para cocinar con el apio.
Intente agregar rebanadas de carne de res, pollo o carne de cerdo para cocinar con el apio.
Intente server con el Tofu Horneado de Héroe de Alimentos y un grano integral, como el arroz integral.