Magical Fruit Salad
Ensalada de Fruta Mágica Rinde: 4 tazas
Tiempo de preparación: 15 minutos
: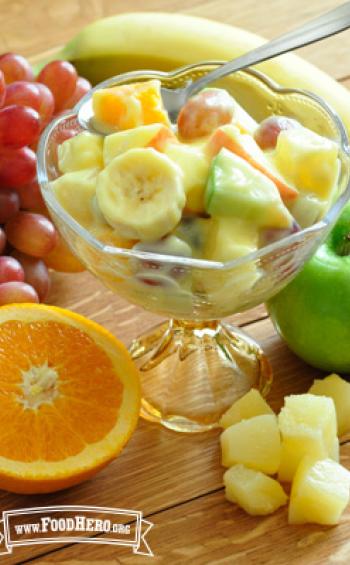 Ingredients
4 cups prepared
 fruit (fresh, canned or frozen; see Directions) 
1 package
(makes 4 servings) instant pudding mix (lemon or vanilla)
1 ¾ cups
cold nonfat or 1% milk 
Ingredientes
4 tazas
de fruta (fresca, enlatada, o congelada; ver preparación
1 paquete
(rinde 4 porciones) de mezcla de pudín instantáneo (de limón o vainilla)
1 ¾ tazas
de leche fría sin grasa o de 1%
Directions
Wash hands with soap and water.
For fresh fruit: Rinse fruit and cut into bite-sized pieces, if needed. For canned fruit: Drain fruit and cut into bite-sized pieces, if needed. For frozen fruit: thaw, drain and cut into bite-sized pieces, if needed.
In a medium bowl, combine the instant pudding mix and cold milk. Add the fruit and stir gently. Refrigerate for 5 minutes before serving.
Refrigerate leftovers within 2 hours.
Preparación
Lávese las manos con jabón y agua..
Para Fruta fresca: lave la fruta y corte en pedazos pequeños. Para Fruta enlatada: escurra las frutas y corte en pedazos si es necesario. Para Fruta congelada: descongelar, escurrir y cortar en pedazos pequeños, si es necesario.
En un tazón mediano, combine la mezcla de pudín instantáneo y la leche fría. Añada la fruta y mezcle cuidadosamente. Refrigere por 5 minutos.
Refrigere lo que sobre dentro de las siguientes 2 horas.
Notes
This salad is best if eaten as soon as it is ready.

Use any fruit, such as apples, bananas, berries, grapes, oranges or pineapple. Try a mixture.

Young children can choke on whole grapes; cut grapes in half or smaller to reduce the chance of choking.

No fresh milk? Mix 1/2 cup plus 2 Tablespoons dry milk powder with enough cold water to make 1 3/4 cups of milk. 
Notas
Esta ensalada se come mejor apenas esté lista.
Pruebe con cualquier fruta como manzanas, plátanos, naranjas, uvas o piña.
Los niños pequeños tienen riesgo de asfixia con uvas enteras; corte las uvas por la mitad o un poco.
¿No tiene leche fresca? Mezcle 1/2 taza más 2 cucharadas de leche en polvo en polvo con suficiente agua fría para hacer 1 3/4 tazas de leche.