Personal Salad in a Bag
Ensalada Individual en Bolsa Rinde: 2 tazas
Tiempo de preparación: 10 minutos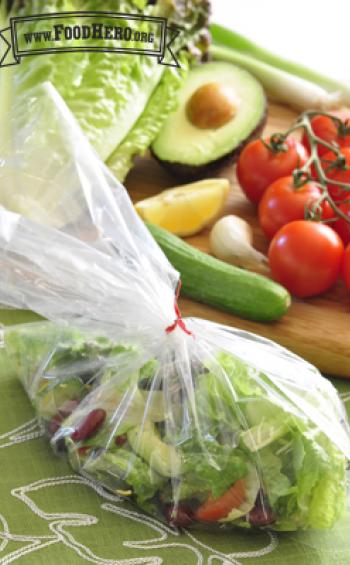 Ingredients
SALAD (1.5 cups total per person)
leafy green vegetables, tomatoes, cucumbers, olives, onions, garlic, avocadoes, grated or diced cheese, cooked beans
DRESSING
1 teaspoon
bottled dressing; or mix together the following:
½ teaspoon
lemon juice or vinegar
1 pinch
each salt and pepper
TOOLS
can opener (if using canned food)
cutting board
knife (for vegetables)
Ingredientes
Alimentos para la ensalada (1.5 taza en total por persona)
Verduras de hoja verde, tomates, pepinos, aceitunas, cebolla, ajo, aguacates, queso rallado o en trozos, frijoles cocinados
Aderezo para la ensalada
1 cucharadita
de aderezo en botella; o mezcle lo siguiente:
½ cucharadita
de aceite vegetal
½ cucharadita
de jugo de limón o vinagre
pizca de sal y pimienta
Materiales
1
bolsa de plástico que cierre
un abrelatas (si se usa comidas en lata)
un cuchillo (para los vegetales)
Directions
Wash all fresh foods. Tear or cut any foods that are larger than a quarter.
Place food for salad in plastic bag. Add dressing to bag.
Close opening of bag securely. Shake bag well.
Refrigerate leftovers within 2 hours.
Preparación
Lávese las manos con agua y jabón.
Lave los alimentos frescos y corte o parta cualquiera que sea más grande que una moneda de 25 centavos.
Ponga los alimentos para la ensalada en la bolsa plástica y añade el aderezo.
Asegúrese de cerrar bien la apertura de la bolsa y agite bien.
Refrigere lo que sobre dentro de las siguientes 2 horas.