Ramen Cabbage Salad
Ensalada de Repollo y Ramen Rinde: 8 tazas
Tiempo de preparación: 15 minutos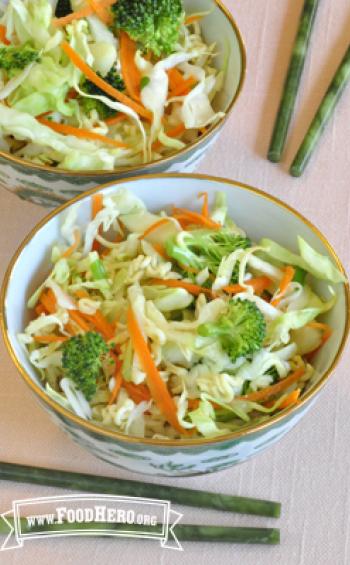 Ingredients
SALAD
5 cups shredded cabbage
2 cups chopped broccoli (or broccoli florets)
1 cup shredded carrot
1⁄2 cup chopped green onion
1 package chicken-flavored ramen noodles, crushed. Use seasoning packet for dressing.
DRESSING
1 ramen seasoning packet
3 Tablespoons vinegar (any type)
1 Tablespoon sugar
2 Tablespoons vegetable oil
Ingredientes
Ensalada
5 tazas
de repollo rallado
2 tazas
de brócoli rallado (o pruebe flores de brócoli)
1 taza
de zanahoria rallada
½ taza
de cebollas verdes, picadas
1 paquete
de fideos ramen de sabor a pollo, quebrados (Guarde el paquete de condimento para el aderezo)
Aderezo
1 paquete de condimento de fideos ramen con sabor a pollo
3 cucharadas
de vinagre (cualquier tipo)
2 cucharadas
de aceite vegetal
Directions
Wash hands with soap and water.

In a large bowl, combine cabbage, broccoli, carrot, green onion and uncooked ramen noodles.

In a small bowl or jar with a tight lid, mix or shake together the dressing ingredients.

Pour dressing over salad and toss to mix. Refrigerate until served.

Refrigerate leftovers within 2 hours.
Preparación
Lávese las manos con jabón y agua.
En un tazón grande, combine el repollo, el brócoli, la zanahoria, las cebollas verdes y los fideos ramen crudos.
Para el aderezo, combine el paquete de condimento de los fideos ramen, el vinagre, el azúcar, y el aceite en un tazón pequeño o un frasco con tapa hermética. Revuélvalo bien.
Vierta el aderezo sobre la ensalada. Revuelva hasta que toda la ensalada esté cubierta de aderezo. Refrigere hasta servir.
Refrigere lo que sobre dentro de las siguientes 2 horas.
Notes
Add cooked chicken, tuna, tofu, nuts or another protein.

Reduce sodium by leaving out the seasoning packet

.

Try low-fat Italian dressing instead of the dressing ingredients.

No vinegar? Use lemon or lime juice.
Notas
Añada pollo, atún, tofu, nueces u otras fuentes de proteína.
No incluya el paquete de condimento para reducir el sodio.
Pruebe aderezo italiano bajo en grasa en lugar de los ingredientes del aderezo.
¿No tiene vinagre? Use jugo de limon amarillo o verde.