Watermelon and Fruit Salad
Ensalada de Frutas y Sandía Rinde: 4 tazas
Tiempo de preparación: 20 minutos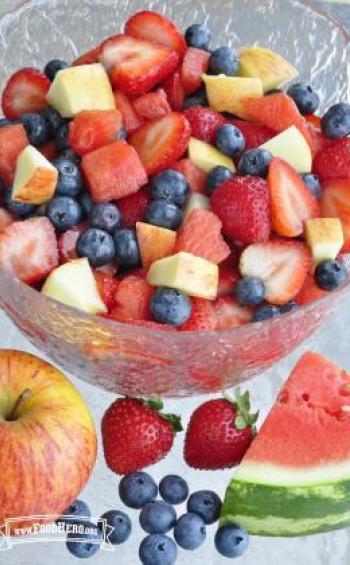 Ingredients
2 cups
 sliced 
strawberries
1 cup
blueberries (fresh or frozen and thawed)
½ cup diced fruit, try
apple, banana or pear
2 teaspoons
honey or brown sugar (see Note)
Ingredientes
1 taza
de sandía, en cubitos
2 tazas
de fresas, en rodajas
1 taza
de arándanos azules (frescos or congeladas/descongelados)
½ taza
de manzana, plátano o pera, en cubitos
2 cucharaditas
de jugo de limón verde
2 cucharaditas
de miel o azúcar morena
Directions
Wash hands with soap and water.
In a serving bowl, gently mix together fruit.
In a small bowl, combine lime juice and honey. Pour over fruit and toss to coat.
Refrigerate leftovers within 2 hours.
Preparación
Lávese las manos con jabón y agua.
Ponga la sandía, las fresas y los arándanos azules en un tazón.
Añada su elección de cubitos de manzana, plátano o pera. Mezcle suavemente.
En un tazón pequeño combine el jugo de limón verde y la miel. Vierta la mezcla sobre la fruta y revuelva suavemente hasta que cubra todas las frutas.
Refrigere lo que sobre dentro de las siguientes 2 horas.
Notes
Honey is not recommended for children under 1 year old.
Notas
No se recomienda la miel para niños de menos de 1 año de edad.