Chicken Mole
Pollo con Mole Rinde: 7 tazas
Tiempo de preparación: 20 minutos
Tiempo para cocinar: 45 minutos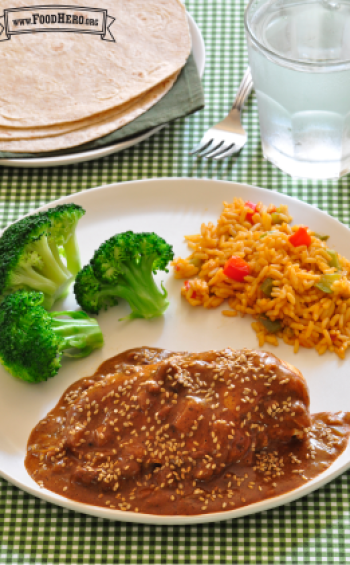 Ingredients
1 whole chicken (3 to 4 pounds)
1 onion, chopped
4 cloves garlic, chopped or 1 teaspoon garlic powder
5 cups water, divided
¼ cup chili powder or ground chile powder (see Notes)
1 teaspoon oregano
1 Tablespoon unsweetened cocoa powder (100% cacao)
½ cup all-purpose flour
1 Tablespoon sugar
½ teaspoon salt
1 teaspoon pepper
1 Tablespoon peanut butter
Ingredientes
1 pollo entero (3 a 4 libras)
1 cebolla, picada
4 dientes de ajo, picados o 1 cucharadita de ajo en polvo
5 tazas de agua, divididas
¼ de taza de chile en polvo o polvo de chile molido (vea las Notas)
1 cucharadita de orégano
1 cucharada de cacao en polvo sin azúcar (100% cacao)
½ taza de harina blanca
1 cucharada de azúcar
½ de cucharadita de sal
1 cucharadita de pimienta
1 cucharada de crema de cacahuate
Directions
Wash hands with soap and water.
Remove whole chicken from packaging and remove organs from cavity. Do not rinse chicken; cooking will kill all bacteria.
Cut chicken into pieces: thighs, legs, breast, wings and back. Remove fat and skin from all but the wings and back. Save wings and back for making broth, if desired. Cut breast pieces in half.
Wash hands, cutting board and knife with soap and water after handling raw chicken.
In a large pot, put chicken pieces, onion, garlic cloves and 4 ½ cups of water. Bring to a boil, then turn heat to low and simmer for 30 minutes or until chicken is cooked through (165 degrees F using a food thermometer).
While chicken is cooking, mix chili powder, oregano, cocoa, flour, sugar, salt and pepper in a medium bowl. Add the remaining ½ cup of water and stir until smooth. Stir in peanut butter and set aside.
When chicken is cooked, move pieces from the broth to a large bowl.
Slowly add the seasoning mix to the pot, stirring to avoid lumps. Bring to a boil, then reduce the heat to medium-low. Cook for 15 minutes or longer until you like the flavor and thickness. Stir a few times.
While the sauce is cooking, add the chicken pieces back to the pot, or cut or shred the chicken into smaller pieces and add them to the pot. Cook until heated through.
Refrigerate leftovers within 2 hours.
Preparación
Lávese las manos con jabón y agua.
Saque el pollo entero del empaque y saque los órganos de la cavidad. No enjuague el pollo; al cocinarlo matará todas las bacterias.
Cortar el pollo en trozos: muslos, patas, pechuga, alas y lomo. Quite la grasa y la piel de todos menos las alas. Guarde el lomo y las alas para hacer caldo, si así lo desea. Corte los trozos de pechuga por la mitad.
Lávese las manos, lave la tabla para cortar y el cuchillo con jabón y agua después de manipular el pollo crudo.
En una olla grande, ponga los trozos de pollo, la cebolla, los dientes de ajo y 4 ½ tazas de agua. Caliente hasta que hierva, luego baje la llama y caliente a fuego lento por 30 minutos o hasta que el pollo esté bien cocido (165 grados F utilizando un termómetro para alimentos).
Mientras que se está cocinando el pollo, mezcle el chile en polvo, el orégano, el cacao, la harina, el azúcar, la sal y la pimienta en un tazón mediano. Agregue la ½ taza de agua restante y revuelva hasta que quede suave. Incorpore la crema de cacahuate. Ponga esta mezcla a un lado.
Cuando el pollo esté cocido, saque los trozos de pollo del caldo y póngalos en un tazón grande.
Lentamente agregue la mezcla de condimentos a la olla, revolviendo para evitar que se hagan grumos. Caliente hasta que suelte un hervor, reduzca el calor a fuego medio-lento. Cocine durante 15 minutos o hasta que espese y se logre el sabor deseado. Revuelva ocasionalmente.
Mientras se está cocinando el mole, regrese el pollo a la olla, ya sea las piezas enteras o cortadas en pedazos más pequeños o desmenuzadas. Cocine hasta que el pollo se haya calentado completamente.
Refrigere lo que sobre dentro de las siguientes 2 horas.
Notes
Make this a meal with a vegetable and grain or beans of your choice. It is traditional to sprinkle sesame seeds on the top of the chicken and sauce.
Chili powder is often a mix of dried cayenne pepper, salt, oregano and cumin that is usually mild to medium spicy. Ground chile powder can be made from any variety of dried pepper without other ingredients. Ancho, California, New Mexico and Colorado chile powders have a mild flavor; cayenne and chile de arbol powders are spicier.
No whole chicken? Use uncooked chicken pieces (with or without bones), such as 7 chicken thighs or 2 chicken breasts. Remove extra fat and skin, then continue with step 5.
Want to use cooked chicken?  Pour 4 ½ cups low-sodium chicken broth into a large pot. Add the seasoning mixture from step 6. Bring to a boil, then reduce the heat to medium-low (step 8). Add 3 ½ cups chopped or shredded cooked chicken (step 9).
Thanks to the OSU Extension Latin Heritage Workgroup for this recipe.
Notas
Sirva esta comida con verduras, granos o frijoles de su elección. Es tradicional espolvorear semillas de ajonjolí encima del pollo y el mole.
El chile en polvo es frecuentemente una mezcla de pimienta de Cayena seca, sal, orégano y comino; usualmente es un picante de suave a medio. Se puede hacer el chile en polvo molido a partir de cualquier variedad de chile seco sin otros ingredientes. Los chiles Ancho, California, Nuevo México y Colorado tienen un sabor suave; la pimienta de Cayena y el chile de Árbol son más picantes.
¿No tiene un pollo entero? Use trozos de pollo crudos (con o sin huesos), como 7 muslos o 2 pechugas. Quite el exceso de grasa y la piel, luego continue con el paso 5.
¿Quiere usar pollo cocido? Vierta 4 ½ tazas de caldo de pollo bajo en sodio en una olla grande. Agregue la mezcla de condimentos del paso 6. Caliente hasta que suelte un hervor, y reduzca el fuego a medio o bajo (paso 8). Agregue 3 ½ tazas de pollo cocido picado o desmenuzado (paso 9).
Gracias al grupo de trabajo de Herencia Latina del Servicio de Extensión de OSU por esta receta.