Banana Bobs
Medallones de Plátano Rinde: 2 porciones
Tiempo de preparación: 5 minutos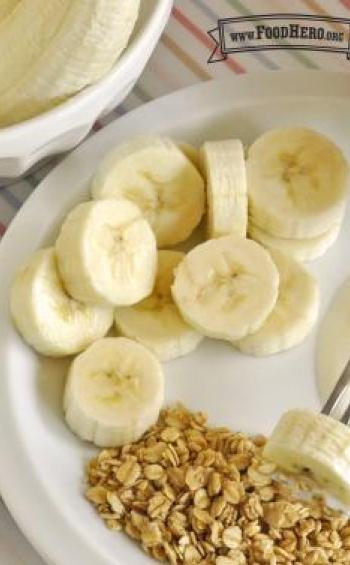 Ingredients
1 large banana, cut into ½ inch slices
¼ cup
low-fat vanilla yogurt
2 Tablespoons
oat and honey granola cereal
Ingredientes
1
plátano grande, cortado en rodajas de 1/2 pulgada
¼ de taza
de yogur de vainilla bajo en grasa
2 cucharadas
de cereal de granola de avena y miel
Directions
Wash hands with soap and water.

Divide the sliced banana pieces between two plates.
Place 2 Tablespoons of yogurt onto each plate.
Place 1 Tablespoon of granola cereal onto each plate.
Use fork to pick up a slice of banana and dip into the yogurt, then into the cereal.
Refrigerate leftovers within 2 hours.
Preparación
Lávese las manos con jabón y agua.

Divida las rodajas de plátano entre dos platos.
Ponga 2 cucharadas de yogur en cada plato.
Ponga 1 cucharada de cereal de granola en cada plato.
Use un tenedor para recoger una rodaja de plátano y untarlo de yogur y luego de cereal.
Refrigere lo que sobre dentro de las siguientes 2 horas.
Notes
Try different flavors of yogurt.
Notas
Pruebe con diferentes sabores de yogur.