Tomato Melt
Tomate y Queso en Panecillo Tostado Rinde: 4 mitades de panecillo
Tiempo de preparación: 5 minutos
Tiempo para cocinar: 8-10 minutos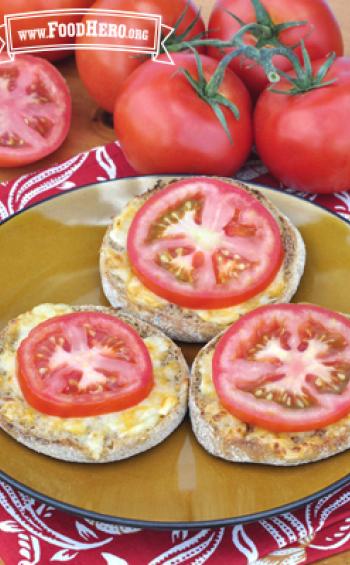 Ingredients
¼ cup
shredded cheese (try cheddar, mozzarella or a blend)
½ teaspoon
prepared mustard
2
English muffins, halved or 2 bread slices (try whole-wheat)
1 
tomato, cut into 4 slices or diced
Ingredientes
¼ de taza
de queso rallado (pruebe con cheddar, mozzarella o una mezcla)
½ cucharadita
de mostaza preparada
2
panecillos ingleses (English muffin) o 2 rebanadas de pan (pruebe pan integral)
1
tomate, cortado en 4 rebanadas o picado
Directions
Wash hands with soap and water.
In a small bowl, combine cheese, mayonnaise and mustard.
Spread cheese mixture evenly over English muffin halves or bread slices.
Cook using one of the methods below.
Refrigerate leftovers within 2 hours.
Oven or toaster oven method:
Broil or toast until cheese melts, 2 to 3 minutes.
Place tomatoes on each sandwich.
Serve 'as-is' or broil to heat the tomato, 2 to 3 minutes.
Skillet method:
Heat a skillet over medium heat. Add sandwiches bread side down.
Cover and heat until cheese melts, 7 to 8 minutes.
Top with tomatoes before or after heating.
Preparación
1.Lávese las manos con agua y jabón.
2. En un tazón pequeño, mezcle el queso, mayonesa y mostaza.
3. Unte la mezcla de queso uniformemente sobre los panecillos ingleses (English muffins) o rebanadas de pan.
4. Cocine usando uno de los métodos a continuación.
5. Refrigere lo que sobre dentro de las siguientes 2 horas.
En el horno o el horno tostador:
1. Ase o tueste hasta que el queso se derrita, 2-3 minutos.
2. Coloque los tomates en cada sándwich.
3. Sirva como está o ase/tueste para calentar el tomate, 2-3 minutos.
En el sartén:
1. Caliente un sartén sobre fuego medio. Añada los sándwiches con el pan hacia bajo.
2. Cubra y cocine hasta que el queso se derrita, 7 a 8 minutos.
3. Cubra con tomates antes o después de calentar.
Notes
For extra flavor try fresh avocado or basil leaves under the tomato or add 1/8 teaspoon garlic powder to the cheese mixture.
Notas
Para darle más sabor, pruebe con aguacate u hojas de albahaca fresca debajo del tomate o añade 1/8 de cucharadita de ajo en polvo a la mezcla de queso y mayonesa.