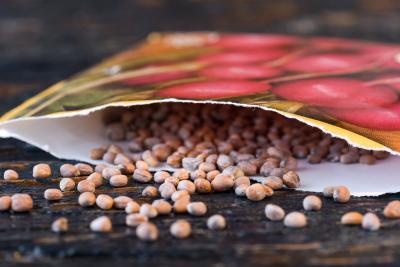 A full packet of seeds might be too much for planting at one time in a home garden.
Seed packets vary in the number of seeds they contain. A packet of watermelon seeds might contain only 4 to 6 seeds, whereas a packet of carrot seeds might have 200.  
There are many different ways to extend the whole packet and make it useful in one or two seasons.
If you have a type of seed that ages well, such as leafy greens, or is currently not past its expiration date you can store it for the next year.
Space out the packet and use it throughout the year through succession planting. Succession planting is spreading out (staggering) the start date of your plants. For example, starting in spring, plant carrot seeds every two weeks. That way, once your first crop matures, you'll have new carrots ready to harvest every two weeks.
Another option is to harvest your first batch of carrots, then right away plant the next batch in that spot.
Once you've planted all you want in your garden bed, take the left over seeds and try growing microgreens indoors. It's a great way to keep a little fresh produce growing year round. Learn how to grow microgreens at this link: https://foodhero.org/microgreens-garden-tips-and-how-grow.  
Back to Gardening Answers