Zinnia: Giant Double Scarlet Flame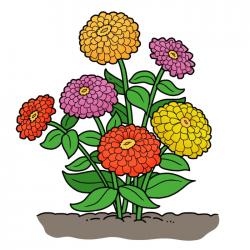 Ideal plant for inside a garden beds along the border that will bloom throughout the summer season.
Days to Germination
7 to 12 days for Giants of California Mixed Colors; 5 to 10 days for Giant Double Scarlet Flame
Days to Bloom
35 to 60 days
Days to Harvest
35 to 60 days
Flower Height
24 to 26 inches
Directions
Start the seeds inside about 4 weeks before the last spring frost. Starting them inside will give you an early bloom. Or sow the seeds directly outside after all danger of frost is gone. Choose a spot with full sun or partial shade. Because zinnias grow only about 2 ½ to 3 inches tall, they make a great border. Water well and often. Once zinnias begin to flower, make sure to cut off old, dead, or fading flowers to prolong their bloom. Fertilizing zinnias will also increase their bloom.
Growing Tips
Cut off faded blooms to encourage more growth.
Garden Benefits
Zinnias are nectar-rich therefore great for pollinators and attract bees, ladybugs, Japanese Beetles, hummingbirds, and wasps.
Last updated: May 07, 2021