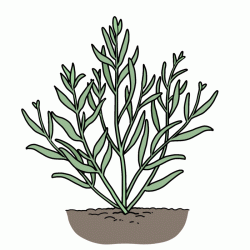 Days to Germination
10 to 14 days
Days to Harvest
75 to 100 Days
Directions
Sow the seeds directly outside in well-drained soil after all danger of frost is past. Choose a spot that will get full sun and where the plants can grow to their full height (20 to 28 inches tall). Or start your seeds indoors in a sunny, warm location about 6 weeks before transplanting outdoors.
As plants mature, allow the soil to dry out thoroughly between waterings.
Pick leaves as needed for cooking. To store leaves, dry or freeze them. Harvest the entire plant when the lower leaves turn yellow.
Last updated: May 18, 2021