Nasturtium: Alaska Mixed Colors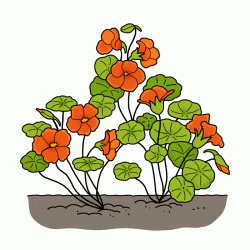 Nasturtiums are edible flowers with a peppery taste, like watercress.
Days to Germination
7 to 14 days
Days to Bloom
32 to 40 days
Flower Height
16 to 18 inches
Directions
Sow the seeds directly outside in the spring after all danger of frost is past. Choose a location with full sun or partial shade. Do not add fertilizer to the soil; nasturtiums do not need fertile soil. Water your nasturtiums sparingly.
Nasturtiums do well in a container or in the garden. They attract aphids, so plant them away from your brassica plants (broccoli, cauliflower, etc.) and they will help keep the aphids away from your vegetables.
Last updated: May 20, 2021