Microgreens are mini versions of plants, many seed types can be grown as microgreens.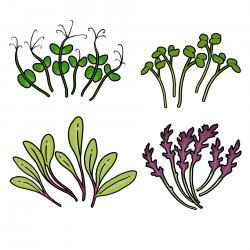 Grow indoors. Eat while plants are still small.
Best Container Size
Flat, clean, 2 to 3 inches deep with drainage holes
Directions
1 Pre-soak large seeds (e.g., sunflower, peas) overnight for quick, even sprouting.
2 Moisten potting soil and place at least 1.5 inches into a container (recycled berry, milk or mushroom containers work great).
3 Smooth the soil surface flat. Evenly sprinkle seeds closely together onto the soil. Gently press the seeds into the soil surface.
4 Mist the soil so that its damp but no water is seeping out of the drainage holes. Cover the container to block light out and create a humid chamber. Aluminum foil or a dinner plate work well. Check and mist every 12 hours.
5 Once seeds have sprouted (around 3 to 4 days), uncover the container and place in a bright window or under a desk or grow lamp.
6 Check moisture daily and mist if surface is dry. Rotate container to keep greens growing straight.
Growing Tips
Some types to grow
Mild: Peas, Sunflower, Broccoli, Chia, Kale, Cabbage, Kohlrabi, Mizuna, Bok choy, Tatso.  
A Little Spicy: Radish such as Daikon, Arugula, Mustard greens, Cress.  
Big Flavors or Bright Colors: Cilantro*, Sorrel (lemony), Borage (cucumber flavor), Dark Opal basil*, Rainbow/Ruby Red chard*, Garnet amaranth.*  
*These might take a little longer to grow but are worth the wait! 
Last updated: Jan 08, 2021