Summer Carnival Mixed Colors and Dwarf Majorette Mix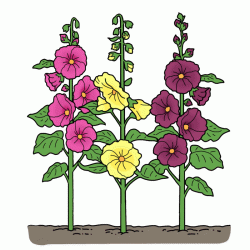 Hollyhock is a perennial, so it will come back every year.  Mixed types will have flowers in many colors: deep crimson, light pink, rose, rosy red, yellow, and white. The flowers will bloom the year after you plant your seeds.
Days to Germination
14 to 21 days for Summer Carnival; 10 to 14 days for Dwarf Majorette
Planting Depth
1/4 inch (barely cover seeds with soil)
Days to Harvest
more than one year
Flower Height
4 to 5 feet for Summer Carnival; 2 to 3 feet for Dwarf Majorette
Directions
Sow the seeds directly outside in the spring after all danger of frost is past.  Or sow the seeds in the fall, well before the first frost, to get a full bloom the following summer. Choose a sunny location—hollyhocks like the sun. Feel free to place your seeds on the ground and then cover them in ¼ inch of soil instead of making a hole.
Since hollyhock grows so tall, it is great for a background screen or as a tall accent to shorter flowers in your garden.  Cut the flower stalks after blooming.
Garden Benefits
Hollyhock is a great plant to attract important pollinators like bees, hummingbirds, and butterflies.
Last updated: May 18, 2021