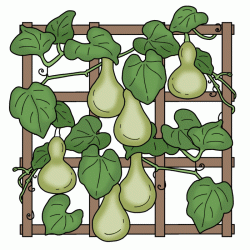 Days to Germination
14 to 21 days
Planting Depth
1 1/2 inches
Days to Harvest
120 to 130 days
Directions
Sow your seeds directly outside, ideally in June on a hill or mound. Gourds do not transplant well; therefore, if using a container, make sure it is large and deep enough to accommodate the plant's growth. Provide the vines with a trellis or cording (thick string tied like a fence) for the vines to climb.
Pick gourds before the first fall frost. Wait until the gourd is fully developed and hard After harvesting, brush and rinse off the dirt, but avoid scrubbing and washing or soaking. Store your gourds in a dry, cool location until they have thoroughly dried out and hardened. Then they can be waxed, painted, or carved.
Garden Benefits
Gourds are great for making birdhouses and planters for growing herbs or small flowers. They make fun garden projects for your whole family.  You can also plant herbs in them!
Last updated: May 18, 2021