Hale's Best Jumbo, Honey Rock, Sierra Gold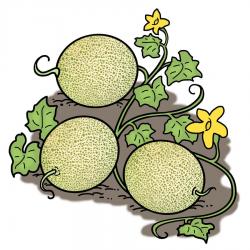 Days to Germination
7 days*
Plant Spacing
4 feet (Hale's Best Jumbo will need 5 to 6 feet)
Days to Harvest
80 to 90 days
Directions
Start the seeds indoors near a sunny window 4 weeks before transplanting to the garden. Be sure not to disturb the roots during transplanting. Try making a small hill about 9 to 12 inches tall for the seedlings to start in and the plants to grow down from.
Growing Tips
The Sierra Gold and Hale's Best Jumbo varieties are ready to harvest when the fruit is golden beige, has a distinct aroma and slips easily from the vine.
The Honey Rock variety can grow on a trellis.
Try preserving the fruit by freezing it!
*These seeds are easy to sow, with a fun color coating that helps them germinate. However, the coating adds a few days to the germination time as compared to uncoated seeds.
Last updated: Oct 27, 2020