California Poppy: Mission Bells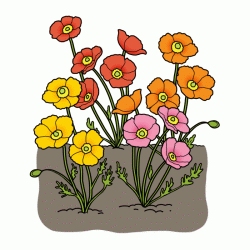 California poppies are sturdy and drought tolerant, they work well in gardens, containers, or even rock gardens. They are toxic if ingested; therefore, make sure to plant them out of reach of children and out of grazing areas for animals.
Days to Germination
10 to 12 days
Directions
California poppies do not transplant well. Sow the seeds directly outside after all danger of frost is past, ideally between April and July. Choose a location with full sun. California poppies re-seed themselves, so the following year you might discover self-seeded poppies growing!  
Garden Benefits
California poppies are beautiful to look at and can attract and provide food for various insects and pollinators.
Last updated: May 20, 2021