Master Mix
Mezcla Maestra Rinde: 10 tazas
Tiempo de preparación: 10 minutos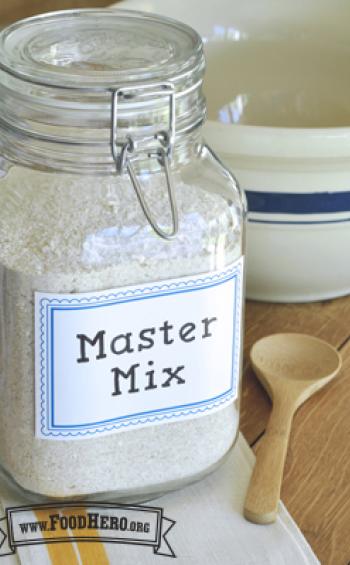 Ingredientes
4 tazas de harina blanca
4 tazas de harina de trigo integral
1 1/3 tazas de leche en polvo sin grasa
1/4 de taza de polvo de hornear
1 cucharadita de sal
1 taza de aceite vegetal
Directions
Wash hands with soap and water.
In a large bowl, combine all-purpose flour, whole-wheat flour, dry milk, baking powder and salt. Mix well.
Stir in oil until evenly mixed.
Store in the refrigerator in a closed container.
To measure Master Mix for recipes, spoon it lightly into a measuring cup and level off with the flat edge of a knife or spatula.
For best quality, use all the mix within a month.
Preparación
Lávese las manos con jabón y agua.
En un tazón grande, combine la harina blanca, la harina de trigo integral, la leche en polvo, el polvo de hornear y la sal. Mezcle bien.
Añada el aceite y revuelva hasta que se mezcle uniformemente.
Guarde en el refrigerador en un recipiente cubierto.
Para medir la Mezcla Maestra para recetas, colóquela suavemente en una taza de medir y nivele con el borde plano de un cuchillo o espátula.
Para mejor calidad, use toda la mezcla dentro de un mes.
Notas
Puede sustituir margarina o mantequilla por el aceite. Corte 1 taza mas 2 cucharadas de margarina o mantequilla en trozos pequeños y añada a la mezcla de ingredientes secos. Use un tenedor o licuadora de repostería para machacar la mantequilla en la harina hasta que la mezcla quede desmoronada.