Vaso de Agua con Sabor a Sol
Vaso de Agua con Sabor a Sol Rinde: 8 tazas
Tiempo de preparación: 5 minutos
Chill time: 2 horas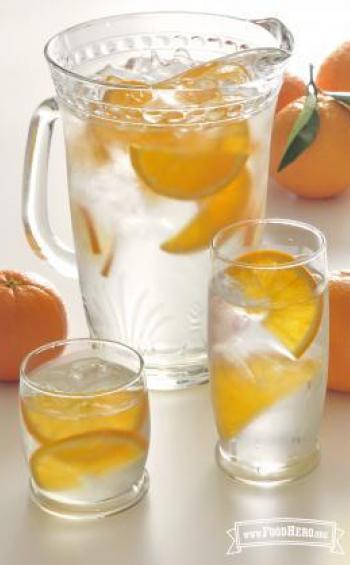 Directions
Wash hands with soap and water.
Scrub the orange under cool running water.
Slice the orange into thin slices, with or without the peel.
Combine the orange slices and water in a pitcher and refrigerate for 2 hours before serving.
Drink within 2 days for best quality.
Preparación
1. Lave bien la naranja frotando bajo agua fría de la llave.
2. Corte la naranja en gajos finos, con o sin cascara.
3. Combine los gajos de naranja y el agua en una jarra y refrigere durante 2 horas antes de servir, luego manténgalo frío para mantenerlo seguro.
4. Use dentro de 2 días para la mayor calidad.
Notes
Keep It Safe! Do not mix batches of flavored water. Use it up, clean the container, then make a fresh batch.
Notas
¡Manténgalo Seguro! No mezcle lotes. Use todo, limpie el recipiente, luego haga un lote fresco de agua de sabor.