Favorite Pancakes (with eggs)
Panqueques Favoritos (con huevos) Makes:
Makes
8 pancakes (4-inch) Rinde: 8 panqueques (4 pulgadas)
Tiempo de preparación: 10 minutos
Tiempo para cocinar: 5 minutos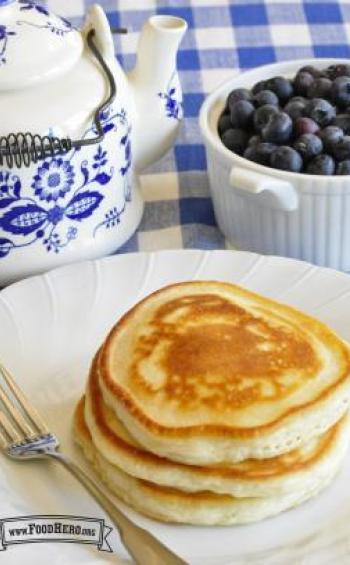 Ingredients
1 ¼ cups
all-purpose flour
1 Tablespoon
baking powder
¼ teaspoon
spice such as cinnamon, nutmeg, or pumpkin spice (optional)
1 cup
non-fat or 1% milk (add 2 Tablespoons for thinner pancakes)
2 Tablespoons
vegetable oil
1 teaspoon
vanilla (optional)
Ingredientes
1 ¼ de tazas
de harina blanca
1 cucharada
de polvo de hornear
¼ de cucharadita de especias como canela molida, nuez moscada, o especias para pay de calabaza (opcional)
1 taza
de leche sin grasa o de 1% (añada 2 cucharadas para hacer panqueques más delgados)
2 cucharadas
de aceite vegetal
1 cucharadita
de vainilla (opcional)
Directions
Wash hands with soap and water.

Mix together flour, baking powder, sugar and salt in a medium bowl. Add the spice, if desired.

In a separate bowl, beat egg until well blended. Add milk and oil. Add the vanilla, if desired.

Add liquids to dry ingredients and stir just until lumps disappear.

Lightly spray a large skillet or griddle with non-stick cooking spray or lightly wipe with oil. Heat skillet or griddle over medium-high heat (350 degrees F in an electric skillet). The skillet is hot enough when a few drops of water sprinkled on it skitter and bounce around.

Pour about ¼ cup of batter per pancake onto the hot skillet or griddle. Cook until bubbles come to the surface of the pancake and the edges start to look dry. Turn over. Cook until cooked through and the bottom is golden brown.

Refrigerate leftover pancakes and enjoy them reheated for up to 2 days.
Preparación
Lávese las manos con agua y jabón.
Mezcle la harina, el polvo de hornear, el azúcar y la sal en un tazón mediano. Añada las especias si desea.
En un tazón separado, bata el huevo hasta que quede bien mezclado. Añada la leche, el aceite y la vainilla si desea.
Añada la mezcla de líquidos a los ingredientes secos y revuelva apenas hasta que los grumos desaparezcan.
Unte la sartén o plancha ligeramente con aceite líquido o en espray. Caliente la sartén o la plancha a fuego medio alto (350 grados en una sartén eléctrica). Para saber si la sartén está lo suficientemente caliente, rocíele unas gotas de agua. Si le salen burbujas que se mueven alrededor, está lista la temperatura.
Vierta aproximadamente ¼ de taza de masa por panqueque en la sartén o plancha caliente. Cocine hasta que las burbujas lleguen a la superficie del panqueque y se vean secos por los bordes. Voltee una vez. Cocine hasta que el otro lado quede dorado.
Notes
Combine wet ingredients ahead of time. Store in the refrigerator up to 2 days.
Mix the dry ingredients ahead of time and store in a sealed container.
No eggs? Replace them with 2 Tablespoons water.
Replace the milk with buttermilk.
Variations:
Whole wheat – use whole wheat pastry flour or replace about half the all-purpose flour with whole wheat flour. Add 1-2 Tablespoons of water or milk if batter is too thick. 
Oatmeal – replace about half the flour with rolled oats.  Soak the rolled oats in the milk for 5 minutes before mixing the batter. 
Corn Cakes - Omit the sugar, replace up to half the flour with cornmeal and add 1/2-1 cup of cooked corn.
Buttermilk – replace the milk with buttermilk; reduce the baking powder to 2 teaspoons and add ½ teaspoon baking soda.
Apple – Add ½ cup apple shredded or cut into small pieces to the liquid ingredients.
Berry  – Try blueberries, raspberries, blackberries or a mix.  After batter is poured on the skillet or griddle, sprinkle the tops with berries, before turning to cook the other side.  No need to thaw frozen berries.
Pumpkin - Add 1/2 cup canned pumpkin.
Zucchini - Try 1/2 cup grated, squeezed, zucchini.
Waffles - This batter also works great in waffle makers!
Notas
Combine los ingredientes líquidos con anticipación. Refrigere la mezcla hasta por 2 días.
Mezcle los ingredientes secos con anticipación y guarde en un recipiente tapado.
¿No hay huevos? Reemplace con 2 cucharadas de agua.
Reemplace la leche con buttermilk.
Variaciones:
Trigo integral – use harina de pastelería de trigo integral o reemplace aproximadamente la mitad de la harina blanca con harina de trigo integral. Añada 1-2 cucharadas de agua o leche si la masa es demasiada espesa.
Avena– reemplace aproximadamente la mitad de la harina con hojuelas de avena. Remoje la avena en la leche por 5 minutos antes de mezclar la masa.
Elote - omita el azúcar, reemplace aproximadamente la mitad de la harina con harina de maíz (cornmeal) y agregue 1/2 - 1 taza de elote cocido.
Buttermilk – reemplace la leche con buttermilk; reduzca el polvo de hornear a 2 cucharaditas y añada ½ cucharadita de bicarbonato de soda.
Manzana – Añada ½ taza de manzana rallada o corte en pedazos pequeños a los ingredientes líquidos; añada hasta ½ cucharadita de canela si desea.
Bayas – Pruebe los arándanos azules, las frambuesas, las moras o una mezcla. Después de que la masa se vierte en la sartén o la plancha, espolvoree la parte superior con bayas, antes de voltear para cocinar el otro lado. No es necesario descongelar las moras congeladas.
Calabaza tipo Pumpkin - añada 1/2 taza de puré de calabaza tipo pumpkin.
Calabacita - pruebe 1/2 taza de calabacita rallada, exprima el exceso de agua de la calabacita.
El Wafle - esta masa también funciona muy bien en una wafflera.