Roasted Vegetables
Verduras Rostizadas Rinde: 1 taza
Tiempo de preparación: 20 minutos
Tiempo para cocinar: 15 minutos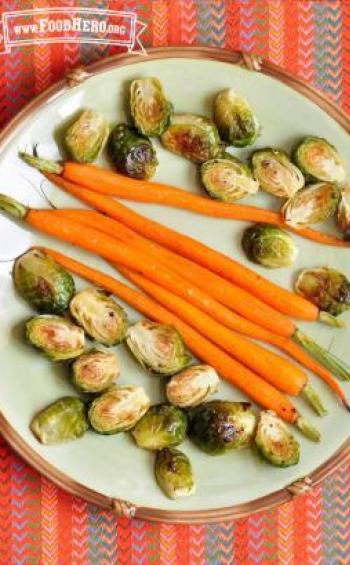 Ingredients
1 cup
fresh vegetables per person (choose one vegetable or a mix of several – see list below)
½ teaspoon
vegetable oil (per cup of vegetables)
sprinkle of salt and pepper
Ingredientes
1 taza
de verduras frescas por persona (escoja una verdura o una mezcla de varias verduras – consulte la lista a continuación)
½ cucharadita
de aceite vegetal (por cada taza de verduras)
1 pinch
de sal y pimienta
Directions
Wash vegetables, peel if desired, and cut into similar sized pieces. Smaller pieces (about 1/2 inch thickness) brown more and cook more quickly. Long thin pieces (asparagus or beans) can be left whole.
Preheat oven to 425 degrees.
Prepare a baking sheet that will hold the vegetables in a single layer. A metal baking sheet without sides allows more browning. A covering of foil will make cleanup easy.
Toss the vegetable pieces with just enough oil to make them shine.
Spread the vegetables on the baking sheet in a single layer.
Roast until tender and slightly browned on the edges. Baking time will depend on the thickness of the pieces. Thin pieces (asparagus or beans) may take 5 minutes; pieces about 1/2 inch thick take about 15 minutes.
Stir or turn about halfway through the roasting to obtain more even browning.
Remove to a serving dish and sprinkle lightly with salt or seasoning of your choice.
Refrigerate leftovers within 2 hours.
Preparación
Lave las verduras, pélelas si desea y corte en trocitos de un tamaño uniforme. Las piezas más pequeñas (aproximadamente 1/2 pulgada de grosor) se doran más y se cocinan más rápidamente. Trocitos largos y delgados (espárragos o ejotes) se pueden dejar enteros.
Precaliente el horno a 425 grados F.
Prepare una charola para hornear que permite que las verduras se puedan acomodar en una sola capa. Una charola para hornear de metal sin bordes permite que se dore más. Una capa de papel de aluminio permitirá una limpieza más fácil.
Bañe los trocitos de verduras con solo lo suficiente aceite para que queden brillosas.
Ponga las verduras en la charola para hornear en una sola capa.
Ase los vegetales hasta que estén tiernos y ligeramente dorados en los bordes. El tiempo de cocción dependerá del grosor de los trocitos. Trocitos delgados (esparrago o ejotes) pueden tardar 5 minutos; piezas de un grosor de aproximadamente 1/2 pulgada tardan aproximadamente 15 minutos.
Agite o voltee los vegetales aproximadamente a la mitad del tiempo de cocción para lograr que se doren de una manera más uniforme.
Pongan los vegetales cocidos en un plato para servir y espolvoree ligeramente con sal o sazonamiento de su elección.
Refrigere lo que sobre dentro de las siguientes 2 horas.
Notes
Try vegetables like: beets, Brussels sprouts, carrots, onions, sweet potatoes, peppers, asparagus, broccoli, cauliflower, green beans, squash and more.
Try additional seasonings like: thyme, rosemary, oregano, balsamic vinegar, and lemon juice.
Notas
Pruebe verduras como: remolachas, coles de Bruselas, zanahorias, cebollas, camote, chiles, espárragos, brócoli, coliflor, ejotes, calabaza y más.
Pruebe sazonamientos adicionales tales como: tomillo, romero, orégano, vinagre balsámico y jugo de limón.