Peach Cooler
Refresco de Durazno Rinde: 2 tazas
Tiempo de preparación: 10 minutos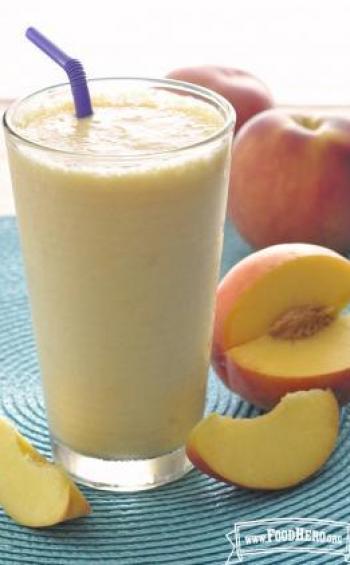 Ingredients
1 cup chopped
frozen peaches
½ cup
orange juice (juice from 1 orange)
Ingredientes
⅓ taza
de leche sin grasa en polvo
1 taza
de duraznos congelados, en trozos pequeños
½ taza
de jugo de naranja ( el jugo de 1 naranja)
Directions
Wash hands with soap and water.
Put all ingredients into a blender. Blend until smooth and serve right away. 
Refrigerate leftovers within 2 hours.
Preparación
Ponga todos los ingredientes en una licuadora.
Licúe completamente hasta que quede sin grumos.
Refrigere lo que sobre dentro de las siguientes 2 horas.
Notes
1 cup chopped or sliced peaches (about 1 ½  to 2 medium fresh).
Serve as a snack or dessert during the summer months.
Notas
1 taza de duraznos picados o en rebanadas (aproximadamente 1.5-2 frescos medianos)
Sirva como merienda o de postre durante los meses del verano.