Couscous Salad
Ensalada de Cuscús Rinde: 5 tazas
Tiempo de preparación: 15 minutos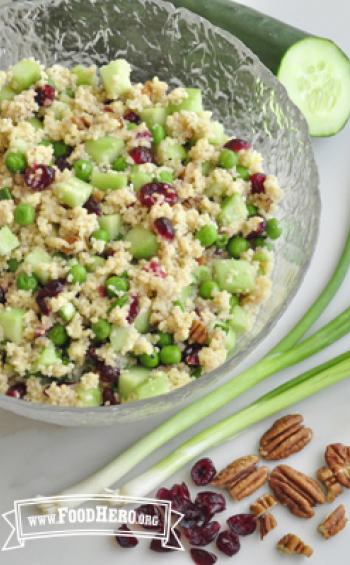 Ingredients
1/3 cup
dried cranberries
½ cup
low-fat Italian Salad Dressing
1
cucumber, peeled, seeded and diced (about 1 cup)
¾ cup
frozen peas, thawed
¼ cup
 chopped toasted
 pecans (or other nuts)
Ingredientes
½ taza
de arándanos rojos secos
½ taza
de aderezo italiana para ensalada, de bajo contenido graso
1
pepino pelado, con semillas y cortado en cuadraditos (aproximadamente 1 taza)
¾ taza
de chícharos congeladas, previamente descongeladas
¼ taza
de nuez tostada (palataa), picada
Directions
Wash hands with soap and water.
Put the couscous and cranberries in a large bowl.
Pour boiling water over the mixture. Cover and let stand until just warm, about 10 minutes. Fluff with a fork to separate.
Add dressing and mix lightly.
Add the rest of the ingredients and toss lightly to mix.
Refrigerate leftovers within 2 hours.
Preparación
Ponga el cuscús y los arándanos en un tazón grande.
Vierta el agua hirviendo sobre la mezcla, cúbrala y déjela reposar hasta que esté caliente. Use un tenedor para mover suavemente.
Agregue la vinagreta y mézclelo suavemente.
Lave y prepare los vegetales y pique las nueces.
Agregue los vegetales y las nueces a la ensalada y mézclela ligeramente para lograr una distribución uniforme.
Refrigere lo que sobre dentro de las siguientes 2 horas.
Notes
To toast nuts, spread on a baking sheet or pan and heat in a 350 degree F oven for about 10 minutes, depending on the size of the nuts. Watch closely to avoid scorching. 
Salad may be refrigerated for up to a day after adding the dressing. When ready to serve, add the vegetables and nuts.
What is Couscous? Couscous is small pellets that are usually shaped from a wheat flour mixture, then pre-cooked and dried. It can be found in many bulk food sections and in packages along the pasta aisle. Try whole-grain couscous.
Notas
Para tostar las nueces, espárzalas en un molde para hornear o en una sartén y póngalos al horno a 350 grados Fahrenheit por aproximadamente 10 minutos, dependiendo del tamaño de las nueces. Preste atención para evitar que las nueces se quemen.
La ensalada puede ser refrigerada hasta por un día después de que se le haya agregado la vinagreta; antes de servirla, mezcle los vegetales y las nueces.
Cuscús son unas bolitas pequeñas hechas de harina de trigo o de otro tipo de granos. Se puede encontrar en la sección de los productos que se venden por mayor y en paquetes en la sección de las pastas. Pruebe el cuscús de granos integrales.