Yogurt Popsicles
Paletas de Yogur Rinde: 24 paletas
Tiempo de preparación: 5 minutos
Chill time: 2 a 3 horas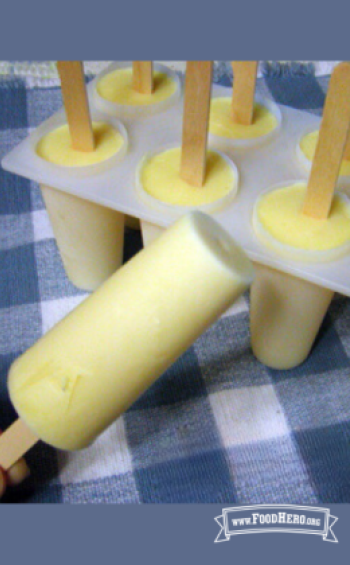 Ingredients
1 quart
low-fat vanilla yogurt
1 can
frozen orange juice concentrate (6 ounce can)
Ingredientes
1
yogur de vainilla de 32 onzas bajo en grasa
1 lata
(6 onzas) de jugo de naranja concentrada congelada
Directions
Wash hands with soap and water.
Stir all the ingredients together.
Spoon into 24 popsicle molds or small waxed paper cups. Insert wooden craft sticks in the center of each popsicle.
Freeze about 2 to 3 hours depending on the size of the popsicle.
Refrigerate or freeze leftovers within 2 hours.
Preparación
Revuelva todos los ingredientes juntos.
Con una cuchara ponga la mezcla en 24 moldes para paletas o en tacitas de papel de cera. Inserte en el centro de cada paleta, los palitos o palillos de madera que se usan en las manualidades.
Congele de 2 a 3 horas, dependiendo del tamaño de la paleta.
Refrigere o congele lo que sobra durante las 2 horas siguientes.
Notes
For variety, substitute any other frozen juice concentrate such as grape, raspberry or pineapple or use fruited yogurts. 

Children can

:

open the

juice

, stir

things together,

use a spoon

to fill

small cups

,

and put

the sticks in

.
Notas
Para una variedad, substituya por cualquier otro jugo de fruta concentrado como de uva, frambuesa, piña o use yogur con fruta.

Los niños pueden: abrir el jugo, revolver cosas juntas, usar una cuchara para llenar las tazas pequeñas, poner los palitos.