Sunshine Roll-Ups
Enrollados Esplendorosos Rinde: 4 mitades de tortilla enrollado
Tiempo de preparación: 20 minutos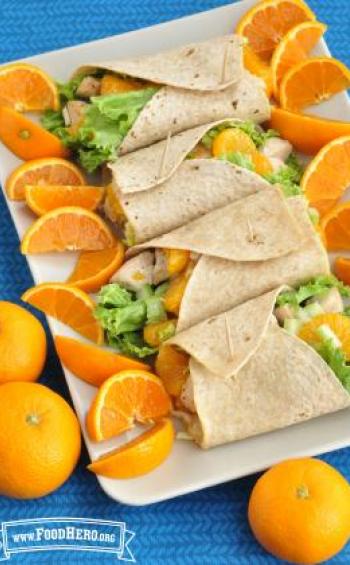 Ingredients
½ cup
finely chopped celery
¼ cup
minced onion (any type)
1 1/2 Tablespoons
mayonnaise
1 teaspoon low-sodium
soy sauce
½ teaspoon
garlic powder or 2 cloves garlic
1 cup chopped cooked chicken
2/3 cup mandarin orange segments (canned, drained and rinsed, or fresh)
2 medium (8-inch) whole wheat tortillas
4 medium lettuce leaves, salad greens or microgreens
Ingredientes
½ taza
de apio finamente cortado
¼ de taza
de cebolla finamente picada (de cualquier variedad)
1 1/2 cucharadas de mayonesa
1 cucharadita
de salsa de soya baja en sodio
½ cucharadita
de ajo en polvo o 2 dientes de ajo
¼ de cucharadita
de pimienta
1 taza
de pollo cocido cortado
⅔ de taza
de gajos de naranja mandarina (enlatadas, escurridas y enjuagadas, o frescas)
2
tortillas de trigo integral medianas (de 8 pulgadas)
4
hojas de lechuga medianas o calquier tipo de hojas verdes para ensalada
Directions
Wash hands with soap and water.
In medium bowl, mix celery, onion, mayonnaise, soy sauce, garlic powder and pepper.
Gently mix in chicken and orange segments.
Lay tortilla on clean cutting board or large plate.
Place 2 lettuce leaves on each tortilla, trimming or moving leaves to keep them inside the tortilla.
Place 1/2 the chicken mixture in the middle of the lettuce.
Roll tortillas into a wrap and cut in half. Repeat with other tortilla, lettuce and rest of chicken mixture.
Refrigerate leftovers within 2 hours.
Preparación
Lávese las manos con agua y jabón.
En un recipiente mediano, mezcle el apio, la cebolla, la mayonesa, la salsa de soya, el ajo en polvo y la pimienta.
Suavamente revuelva en pollo y los gajos de naranja en la mezcla.
Ponga una tortilla en una tabla para cortar limpia o plato grande.
Coloque 2 jojas de lechuga en una tortilla, cortando o moviendo las hojas para mantenerlas dentro de la tortilla.
Coloque la mitad de la mezcla de pollo en medio de la lechuga.
Enrolle la tortilla en un wrap y corte a la mitad. Repita con la otra tortilla, lechuga y el resto de la mezcla de pollo.
Refrigere lo que sobre dentro de las siguientes 2 horas.
Notes
No oranges? Use halved grapes or diced apples.
Instead of chicken, try using 1 cup cooked/drained garbanzo beans, or 1 cup of small tofu cubes.
Notas
¿No tiene mandarinas? Use uvas cortadas por la mitad o manzanas cortadas.
En lugar del pollo, puede probar 1 taza de garbanzos cocinados y escurridos o 1 taza de tofu cortado en cubitos.