Kitchen Scraps Vegetable Broth
Caldo de Restos de Verduras Rinde: 6 a 12 tazas
Tiempo de preparación: 15 minutos
Tiempo para cocinar: 40 minutos
Chill time: 15 minutos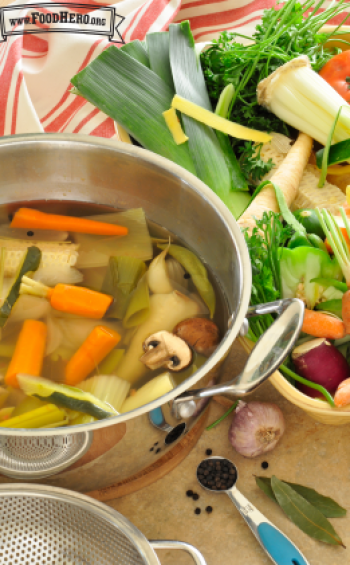 Ingredients
8 to 16 cups fresh or frozen vegetable scraps (see Notes)
herbs and spices (optional, see Notes)
water
1/2 to 1 teaspoon salt 
Ingredientes
8 a 16 cups tazas de restos de verduras frescas o congeladas (vea Notas)
hierbas y especias (opcional, vea Notas)
agua
1/2 a 1 cucharadita de sal
Directions
Wash hands with soap and water.
Put vegetable scraps and herbs and spices, if desired, in a large saucepan or cooking pot. Add enough water to cover them.
Heat pan on high until water boils, then cover pan and reduce heat. Simmer for at least 30 minutes or until all scraps are soft. Stir a few times and add more water, if needed, to keep scraps mostly covered. 
Turn off heat. Scoop out as many scraps as you can with a spoon. If you want, press on scraps to remove more liquid. Throw away or compost them. 
Fill a large container or clean sink with ice and some water to make an ice bath. Put pan into ice bath for about 15 minutes, stirring every few minutes to release heat. If you were unable to remove all scrap pieces, pour broth through a strainer into another large pot.
Stir in salt to dissolve. Use broth for soups or stews, or in place of water for cooking grains or beans.
If not using broth right away, store in refrigerator or freezer. To freeze, pour into recipe-sized freezer-safe containers and label with date.
Broth can be stored safely in the refrigerator for 3 to 4 days. For best quality, use frozen broth within 2 to 3 months. 
Preparación
Lávese las manos con jabón y agua.
Ponga los restos de verduras, hierbas y especias, si desea, en una cacerola grande o en una olla. Añada suficiente agua para cubrirlos.
Caliente la olla o cacerola a fuego alto hasta que el agua hierva, luego cubra y reduzca el fuego. Cocine a fuego lento durante al menos 30 minutos o hasta que todos los restos estén suaves. Revuelva unas cuantas veces y añada más agua, si es necesario, para mantener los restos cubiertos en su mayor parte.
Apague el fuego. Saque la mayor cantidad de restos que pueda con una cuchara. Si lo desea, presione los restos para exprimir más líquido. Deséchelos o conviértalos en abono.
Llene un recipiente grande o un fregadero limpio con hielo y un poco de agua para hacer un baño de hielo. Coloque la olla o cacerola en el baño de hielo durante unos 15 minutos, revolviendo de vez en cuando para liberar el calor. Si no pudo quitar todos los restos, vierta el caldo a través de un colador en otra olla grande.
Agregue sal para disolver. Use el caldo para sopas o guisos, o en lugar de agua para cocinar granos o frijoles.
Si no usa el caldo de inmediato, guárdelo en el refrigerador o congelador. Para congelar, vierta en recipientes aptos para congelador del tamaño de una receta y etiquete con la fecha.
El caldo se puede almacenar de forma segura en el refrigerador durante 3 a 4 días. Para obtener la mejor calidad, use caldo congelado dentro de 2 a 3 meses.
Notes
Label a freezer container with "Broth Scraps" and the date. For the next several days or weeks, after preparing vegetables for any use, save scraps in the container until you have enough for making broth. Also wash and save any vegetables that have passed their peak freshness but are still safe to eat.
Vegetable scraps to save include ends, peels, stems, leaves and pieces of vegetables and herbs such as carrot, celery, garlic, leek, mushroom, onion, tomato, parsley and thyme.
Vegetable scraps to limit or avoid:

Asparagus, broccoli, Brussels sprouts, cabbage, cauliflower and leafy greens can add a bitter flavor if too many are used.
Beets will add a dark color and bitter flavor.
Potato, sweet potato and winter squash flesh can make the broth too thick.
Scraps that are moldy, slimy or otherwise unsafe to eat should never be used.

Optional herbs and spices:

1 or 2 bay leaves
1 or 2 teaspoons peppercorns or a dried chile
4 to 8 cloves unpeeled garlic
1 leek or unpeeled onion, cut in large pieces (if not included as scraps)
Notas
Etiquete un recipiente apto para congelador con "Restos para Caldo" y la fecha. Durante los próximos días o semanas, después de preparar las verduras para cualquier uso, guarde los restos en el recipiente hasta que tenga suficiente para hacer caldo. También lave y guarde las verduras que hayan pasado su máxima frescura pero que aún sean seguras para comer.
Los restos de verduras para guardar incluyen puntas, cáscaras, tallos, hojas y trozos de verduras y hierbas como zanahoria, apio, ajo, puerro, hongos, cebolla, tomate, perejil y tomillo.
Restos de verduras para limitar o evitar:

Espárragos, brócoli, coles de Bruselas, repollo, coliflor y verduras de hoja verde pueden agregar un sabor amargo si se usan demasiadas.
Los betabeles agregarán un color oscuro y un sabor amargo.
Papa, camote y la pulpa de la calabaza de invierno pueden hacer que el caldo se espese demasiado.
Nunca se deben usar restos que estén mohosos, viscosos o que no sean seguros para comer.

Hierbas y especias opcionales:

1 a 2 hojas de laurel
1 a 2 cucharaditas de granos de pimienta o chile seco
4 a 8 dientes de ajo sin pelar
1 puerro a cebolla sin pelar, en trozos grandes (si no se incluye como restos)