Cornbread
Pan de Maíz Cooking time:
Cook time
20 to 25 minutes Rinde: 12 piezes
Tiempo de preparación: 10 minutos
Tiempo para cocinar: 20 a 25 minutos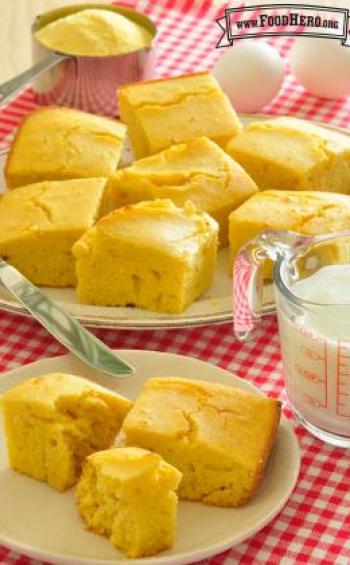 Ingredients
1 cup cornmeal
1 cup flour (whole-wheat or all-purpose)
1/2 teaspoon salt
2 teaspoons baking powder
1 to 2 Tablespoons sugar
1 cup 1% or skim milk
2 eggs
1/4 cup vegetable oil or melted margarine or butter
Ingredientes
1 taza de harina de maíz
1 taza de harina de trigo integral o blanca
1/2 cucharadita de sal
2 cucharaditas de polvo de hornear
1 a 2 cucharadas de azúcar
1 taza de leche de 1% o sin grasa
2 huevos
1/4 de cucharadita de aceite vegetal or margarina o mantequilla derretida
Directions
Wash hands with soap and water.
Preheat oven to 425 degrees F. Lightly grease an 8x8-inch square or 9-inch round baking dish.
In a large bowl, mix together cornmeal, flour, salt, baking powder and sugar.
In another bowl, mix together milk, eggs and oil.
Add liquids to dry ingredients and stir until combined, but do not overmix.
Pour batter into baking dish. Bake for about 20 to 25 minutes, until top is lightly browned and sides have pulled away from pan.
Serve warm. Store leftovers in an airtight container at room temperature.
Preparación
Lávese las manos con jabón y agua.
Precaliente el horno a 425 grados F. Engrase ligeramente un molde para hornear cuadrado de 8x8 pulgadas o un molde redondo de 9 pulgadas.
En un tazón grande, mezcle la harina de maíz, la harina, la sal, el polvo de hornear y el azúcar.
En otro tazón, mezcle la leche, los huevos y el aceite.
Añada los ingredientes líquidos a los ingredientes secos y revuelva hasta que quede mezclados, pero no mezcle demasiado.
Vierta la masa en un molde para hornear. Hornee por aproximademente 20 a 25 minutos, hasta que la parte superior esté ligeramente dorada y los lados se hayan despegado del molde.
Sirva caliente. Guarde lo que sobre en un recipiente hermético a temperatura ambiente.
Notes
Enjoy with Food Hero Succotash or any soup, stew or chili.
Add-in ideas: 1/2 cup grated cheese (any type), 1 cup corn (any type), 1 to 3 teaspoons dried herbs or spice (rosemary, sage, thyme, basil, Soulful Seasoning), 2 cloves minced garlic, 1/4 cup canned green chiles, 1/2 cup grated apple or carrot, 1/2 cup blueberries, zest of 1 lemon.
Try making cornbread muffins! Divide batter into 12 muffin cups. Bake for 12 to 15 minutes. Extras are easy to freeze. 
Notas
Disfrute con Succotash de Héroe de Alimentos o cualquier sopa, guisado o chili.
Ideas para ingredientes extras: 1/2 taza de queso rallado (cualquier tipo), 1 taza de maíz (fresco, congelado, o enlatado, escurrido y enjuagado), 1 a 3 cucharaditas de hierbas o especias secas (romero, salvia, tomillo, albahaca, condimento "Soulful" de Héroe de Alimentos), 2 dientes de ajo finamente picado, 1/4 de taza de chiles verdes enlatados, 1/2 taza de manzana o zanahoria rallada, 1/2 taza de arándanos azules, ralladura de un limón.
¡Intente preparar panecillos de maíz! Divida la masa en 12 moldes para panecillos. Hornee por 12 a 15 minutos. Es muy fácil congelar lo que sobre.