Carrot Ginger Salad
Ensalada de Zanahoria y Jengibre Rinde: 2 tazas
Tiempo de preparación: 20 minutos
Chill time: 2 o 3 horas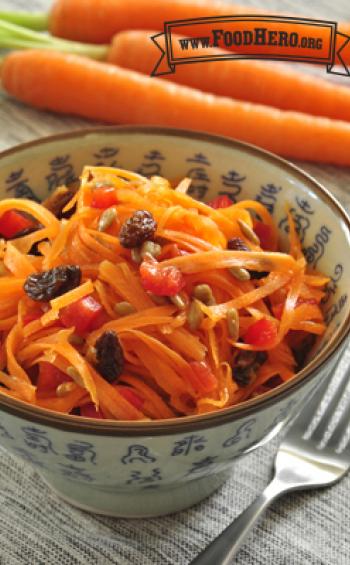 Ingredients
SALAD
2 cups
shredded carrots (about 4 medium carrots)
¼ cup
finely chopped bell pepper
¼ cup
raisins or dried cranberries
¼ cup
unsalted cashews or sunflower seeds
DRESSING
¼ cup
orange juice (juice from 1/2 orange)
1 Tablespoon
vegetable oil
1 Tablespoon
low-sodium soy sauce
⅛ teaspoon
garlic powder or 1 small clove of garlic, minced
1 teaspoon
 sugar or honey
Ingredientes
ENSALADA
2 tazas
de zanahorias ralladas (aproximadamente 4 zanahorias mediano)
¼ taza
de chiles campana verde o rojo finamente picado
¼ taza
de pasas o arándanos secos
¼ taza
de nueces de la india o de semillas de girasol sin sal
ADAREZO ASIÁTICO
¼ taza
de jugo de naranja ( el jugo de 1/2 naranja)
1 cucharada
de aceite vegetal
1 cucharada
de salsa de soja baja en sodio
⅛ cucharadita
de jengibre molido
⅛ cucharadita
de ajo en polvo
1 cucharadita
de miel o azúcar
Directions
Wash hands with soap and water.
In a medium bowl, combine carrot, pepper, raisins and cashews.
In a small bowl or jar with a tight lid, mix or shake together the dressing ingredients.
Add the salad dressing to vegetable mixture and stir to mix.
Refrigerate for a few hours to blend flavors.
Refrigerate leftovers within 2 hours.
Preparación
Lávese las manos con agua y jabón.
Mezcle las zanahorias, los chiles campana, las pasas y las semillas de girasol en un recipiente.
Mezcle el jugo de naranja, el aceite vegetal, la salsa de soja, el jengibre molido, el ajo en polvo y la miel o el azúcar en un frasco. Tape y sacuda el frasco para mezclar bien todo.
Agregue el aderezo oriental para ensaladas o su aderezo recommendido. Revuelva para mezclar todo bien.
Refrigere algunas horas para que los sabores se fundan.
Refrigere lo que sobre dentro de las siguientes 2 horas.
Notes
Honey is not recommended for children under 1 year old.
In a hurry? Use 6 Tablespoons of your favorite salad dressing

Recipe adapted from Nutrition Matters.
Notas
La miel no es segura para niños menores de 1 año.



La receta es adaptada de Nutrition Matters.