Whole-Wheat Blueberry Muffins
Panecillo (muffins) Integral de Arándanos Rinde: 12 panecillos
Tiempo de preparación: 15 minutos
Tiempo para cocinar: 20 minutos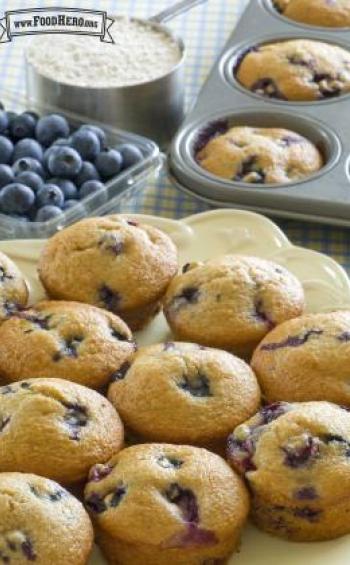 Ingredients
1 ½ cups
whole-wheat flour
2 teaspoons
baking powder
½ cup
unsweetened applesauce
2 cups
blueberries (fresh or frozen)
Ingredientes
1 ½ tazas
de harina de trigo integral
2 cucharaditas
de polvo de hornear
1
huevo, ligeramente batido
⅓ de taza
de leche al 1% o sin grasa
½ taza
de puré de manzana sin azúcar
2 tazas
de arándanos azules (frescos o congelados)
Directions
Wash hands with soap and water.
Preheat oven to 400 degrees F. Lightly grease 12 muffin cups.
In a large bowl, mix the flour, sugar, salt and baking powder.
In a medium bowl, mix the oil, egg, milk and applesauce until smooth.
Stir the liquid ingredients into the flour mixture until just moistened. Lightly stir in the blueberries.
Fill each muffin cup about 3/4 full.
Bake about 20 minutes, or until the muffin tops are golden brown.  A toothpick inserted into the center of the muffin should come out moist but without batter.
Preparación
Precaliente el horno a 400 grados F. Cubra ligeramente la parte de adentro de cada cavidad del molde de panecillos (muffins) con aceite para cocinar en líquido o en aerosol.
Mezcle la harina, el azúcar, la sal y el polvo de hornear en un tazón grande.
Combine el aceite vegetal, el huevo, la leche y el puré de manzana en otro tazón, hasta que la mezcla quede suave. Revuelva los ingredientes líquidos dentro de la mezcla de harina, hasta humedecer la mezcla. Con cuidado incorpore y revuelva los arándanos azules a la mezcla.
Llene cada cavidad del molde de panecillos aproximadamente 3/4 lleno.
Póngalos a hornear por 20 minutos, o hasta que estén dorados por encima. Al insertar un palillo en el centro del panecillo, debe salir humedecido pero sin masa.
Notes
To avoid rancid whole wheat flour, store it in a container or bag that keeps the air sealed out. Keep in a cool dark area for up to 3 months or in the freezer for up to 6 months.  Buy amounts that you can use within those lengths of time.
A gravy ladle or large liquid measuring cup are great tools for pouring muffin batter into tins.
Variations:
To use sweetened applesauce, remove about 1 1/2 teaspoons of sugar from the measured amount.
To bake as a bread, use a greased 8- or 9-inch bread pan and bake at 350 degrees F for 45 to 50 minutes.
No whole-wheat flour? Replace with all-purpose flour.
Replace blueberries with another fruit. Try diced apples with 1 teaspoon cinnamon, fresh or frozen cranberries with 1 1/2 teaspoon orange zest, or diced bananas.
Notas
Para evitar que la harina de trigo integral se vuelva rancia, guárdela en un recipiente o bolsa que se cierre herméticamente. Manténgala en un lugar fresco y oscuro por hasta 3 meses, o en el congelador por hasta 6 meses. Cómprela en cantidades que se puedan usar dentro de esos límites de tiempo.

Un cucharón o una taza medidora para líquidos son excelentes herramientas para verter la masa de panecillos en los moldes.
Variaciones:
Para utilizar puré de manzana azucarada, quite aproximadamente 1 1/2 cucharaditas de azúcar de la cantidad medida.

Para hacerlo en pan, use un molde para pan engrasado de 8-9 pulgadas y hornee a 350 grados F por 45-50 minutos.

Reemplace los arándanos azules con otra fruta. Pruebe manzanas picadas con 1 cucharadita de canela, arándanos rojos frescos o congelados con 1 1/2 cucharadita de ralladura de naranja, o plátano picado.