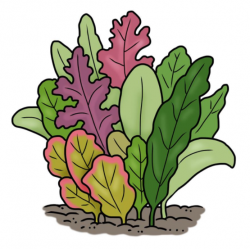 Grow seven different salad greens: arugula, endive, red kale, red and green romaine, Salad Bowl lettuce, and Lolla Rossa lettuce.
Days to Germination
7 to 10 days
Days to Harvest
40 to 80 days
Best Container Size
12 inches or larger
Directions
Sow the seeds directly in the garden as soon as the soil can be made fine and loose. Plant them every 2 inches, covering them firmly with soil.
Mesclun needs plenty of moisture. Water regularly to keep the soil from drying out;  however, overwatering or lack of air circulation will cause the leaves to rot.
As the plants begin to crowd, pick individual leaves regularly for use.
Growing Tips
Late summer or fall mesclun mix may have to be started indoors, since the seeds may have a difficult time germinating in hot weather.
Last updated: Oct 27, 2020